On July 3, 2020, Neo Matloga's solo exhibition titled Back of the Moon opened for viewing at STEVENSON Johannesburg. In this exhibition, the artist presents large-scale multi-panel collage works both on and with canvas material.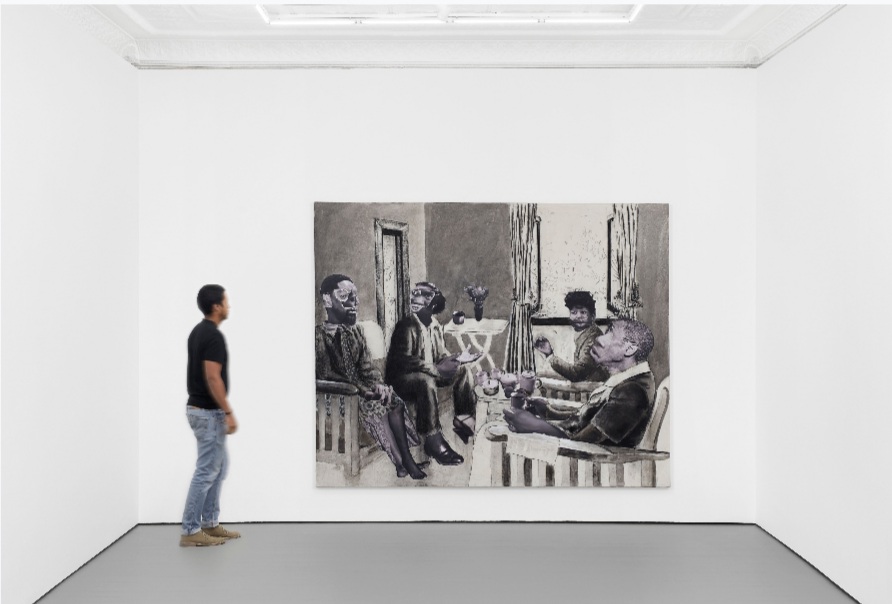 Matloga describes his process as straddling choreography, conducting and creation. Inspired by scenes in plays, local soap operas and family albums, he manipulates images taken from books and magazines digitally, then pieces together painterly compositions in charcoal, ink and liquid charcoal to yield a combination he calls 'collage paintings'.
The depictions in this body of work as scenes that take place in bedrooms, living rooms, kitchens, steps and study areas. The figures are depicted in ambiguous confrontations and embraces, interspersed with solitary moments. Matloga employs contradictory arrangements of posture and expression, offering an avenue to question common understandings of social relations.
Following his two years of study at Amsterdam's De Ateliers, Matloga attributes his inclination towards a mixed-media approach to affection for line drawing and materials with a connection to South Africa's political past, as well as the conceptual undercurrent provided by rupturing, layering and creating hybrid forms.
About the process behind the creation of works in this exhibition, Matloga says:
"I thought about what it means to offer my practice from a social and aesthetic context and point of view. I made the conscious decision to continue making the interiors using a monochromatic palette, partially due to the fact that this use of colour makes the figures difficult to place in time – my characters appear in scenes from an alternative, personal existence. With all figurative painting, the most important question asked is, who are the people in the painting? In my collage paintings, the figures refuse to solidify into simply drawn or painted material; there is a living presence there on the canvas that cannot be looked away from."
Back of the Moon initially opened online in May, during the lockdown, but is now on view until August 22, 2020.