Currently on view at Circle Art Gallery in Nairobi, Kenya, is the premier exhibition by Dickens Otieno titled "Mabati Tailor". The show features nineteen new works of sculpture ranging from large woven wall pieces to free-standing garment sculptures. Otieno is known for weaving aluminium scraps into sculptural draperies to reflect his interest in how colour, texture, pattern, iconography give ordinary objects meaning and identity.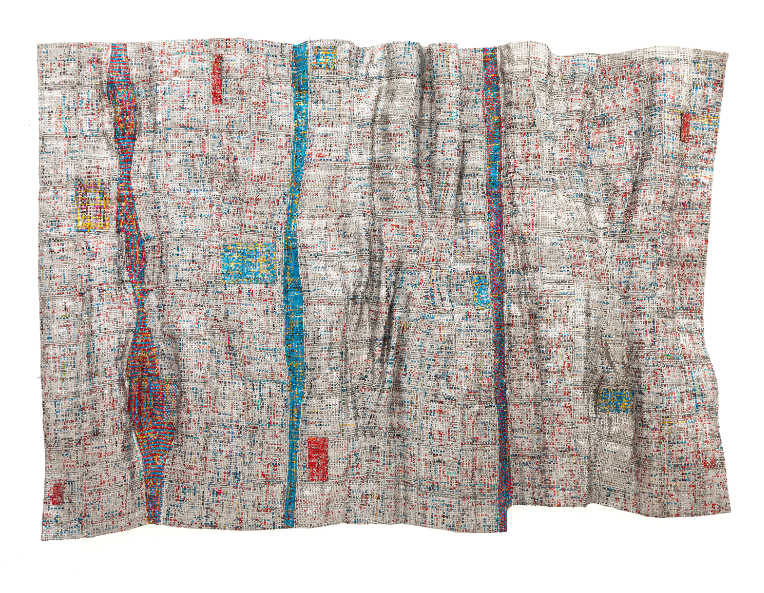 Inspiration for Otieno's current practice is drawn from his childhood years watching his mother, a tailor, work with fabrics and pattern. In interpreting this in his work, the artist has used found objects such as aluminium cans, newspapers, galvanized steels and laminating film to convey the socio-economic character of his environment in Nairobi. There is a constantly shifting skyline, and pockets of nature in the proliferating concrete and steel structures in the city.
With fifteen years of artistic practice, Dickens Otieno's works have evolved in both scale and technique, reflecting the expansion in his visual language and expression. Otieno has participated in numerous group exhibitions locally and internationally. Recent exhibitions include: See Here, Old Neals Auction House, Nottingham, 2018; Africa/Africa, Total Arts Courtyard Gallery, Al Quoz, Dubai, 2018; Young Guns, Circle Art Gallery, Nairobi, 2017; The Third Dimension, Circle Art Gallery, 2016; UNI-FORM MULTI-FORM, Roots Contemporary, Nairobi, 2016; Paint and Metal, National Museum in Nairobi, 2016. His recent residencies include the Tilleard Artist Residency in Lamu (2018), Kenya, and a 6-week fellowship in Italy at the Civitella Ranieri Foundation (2019). Otieno's works have been exhibited at international art fairs in Cape Town, Lagos, and Paris. 
"Mabati Tailor" is on view until December 22, 2020.