ART X Lagos in collaboration with Access Bank has announced the 2018 edition of the 'ART X Prize with Access'. This was established for the recognition and support of the best emerging visual artists in Nigeria.
The winner of the ART X Prize with Access will receive a grant of ₦1million towards a project or installation by the artist, which will be exhibited in a solo presentation at ART X Lagos 2018.  The winning artist will also gain significant visibility and invaluable opportunities for networking and mentoring.
ART X Prize with Access will be adjudicated by a jury of 5 renowned artists and industry practitioners.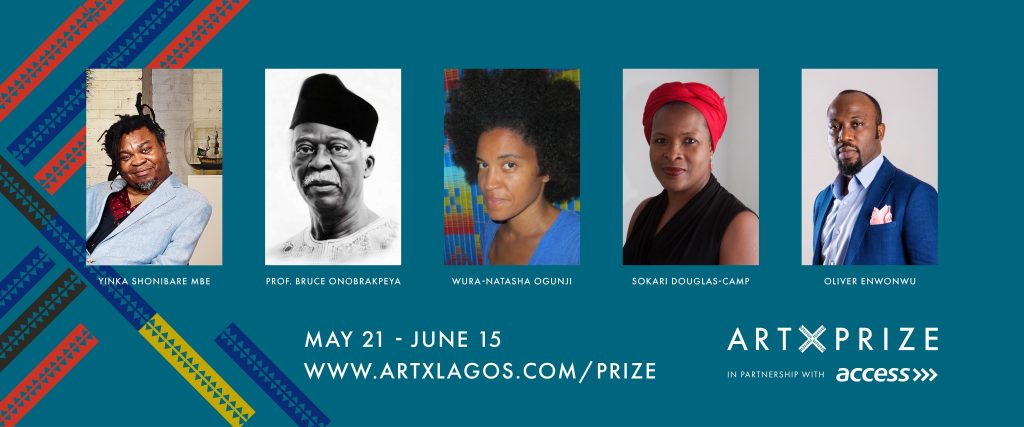 Professor Bruce Onobrakpeya is a renowned experimental artist, with a career spanning five decades and notable exhibitions, including the Tate Modern, London.
Yinka Shonibare MBE is an acclaimed conceptual artist who received a Turner Prize nomination in 2004. He is known worldwide for his Ankara wind sculptures.
Wura-Natasha Ogunji is a recipient of the prestigious Guggenheim Foundation Fellowship and a highly regarded visual artist and performer whose works include drawings, videos and public performances.
Sokari Douglas-Camp has represented Britain and Nigeria in national and international exhibitions and her solo exhibitions have held at The Smithsonian Institute and The Museum of Mankind London among other institutions. She is an honorary Fellow of the University of the Arts, London.
Oliver Enwonwu is an artist, art critic, historian, publisher and curator. He is also the director and founder of Omenka Gallery and is the president of the Society of Nigerian Artists.
Application for the ART X Prize with Access 2018 is now open and welcomes emerging Nigerian artists who live in Nigeria with at least 5 years of professional practice to apply. Applications can be submitted at www.artxlagos.com/prize and will be open until 15th June 2018.
The winner will be declared at the end of June.