No Man's Art Gallery in Amsterdam is honoured to present Impilo inegama, Buhlebezwe Siwani's second solo exhibition at the gallery.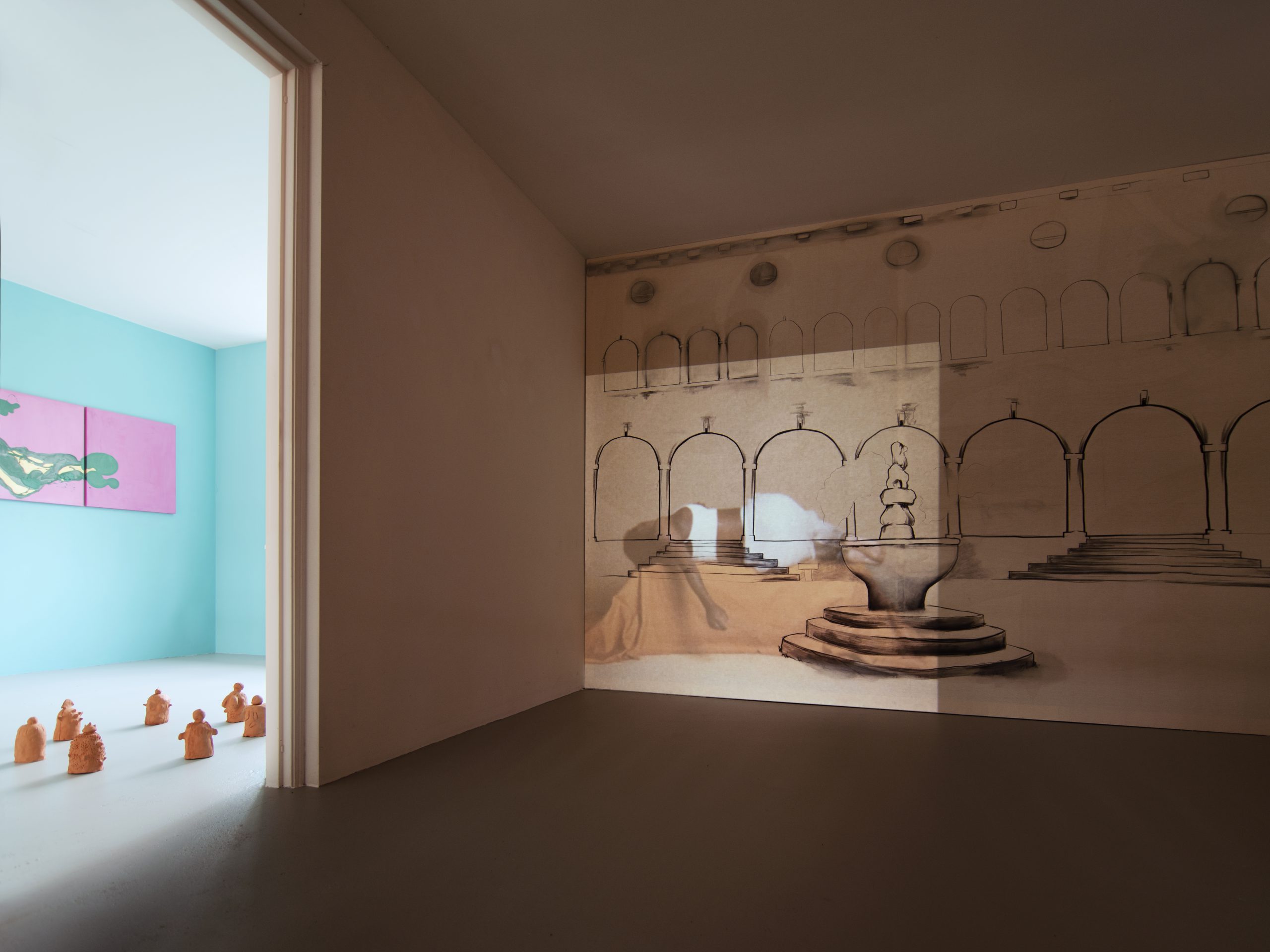 In Impilo inegama (loosely translated: Life has a name), Siwani addresses how Black motherhood is not viewed in a tender manner as one would view the process of becoming a mother, primarily because Black women's bodies and fertility have not always belonged to themselves.
"When we hold conversations on and about slavery, we are focused on the bodies that make a voyage, rarely do these conversations touch on women who were kept as slaves whose sole purpose was to bear children who could work as slaves themselves," says Siwani. 
A new series of soap paintings reflect on the experience of motherhood for these enslaved mothers and the voyage of the foetus within the mother's body. Their titles Mdlezana translated from isiXhosa mean new mother, as this will be the only phase of motherhood these mothers get to experience before their babies are taken away from them.
In the video Ulishiyele bani ibele (2022), directly translated from isiZulu meaning "who did you leave the breast for?" We see the artist, herself carrying a child, performing repetitive rhythmic movements. Her voice recites the poem The Slave Mother (1854) by Francis Ellen Watkins Harper:
He is not hers, although she bore
For him a mother's pains;
He is not hers, although her blood
Is coursing through his veins!
In both Ulishiyele bani ibele and Mdlezana we witness the unbearable loss – the loss of a child, of self, of motherhood, of one's body, but Siwani also shows us incredible strength. A vigorous force that is materialised in ceramic sculptures. In Umdali and OoMama abadala the artist honours the creator, the life giver. This strength, carried by not one but a group of women, a cycle of ceramics is placed close to the ground, rooted to the earth. The hand of Siwani has left behind its traces, suggestions of mark making, taking ownership over one's own body, one's womanhood and one's fertility.
Buhlebezwe Siwani is a visual artist working predominantly in performance and installation. She completed her BAFA(Hons) at the Wits School of Arts in Johannesburg in 2011 and her MFA at the Michaelis School of Fine Arts in 2015. Her work interrogates the patriarchal framing of the Black female body and experience within the South African context. Her art practice is strongly correlated with her practice as iSangoma, a spiritual healer that works within the space of the dead and the living. Siwani was awarded the Standard Bank Young Artist Award in 2021 and nominated for the Theodora Niemeijer Prize in the same year. Her past exhibitions include Sonsbeek 20-24 in Arnhem, Matereality at Iziko National Gallery, Cape Town, Being There at Foundation Louis Vuitton, Paris,  Theater Spektakel in Zurich and Documenta 14 in Athens and Kassel.
Impilo inegama is on view from February 5 to March 6, 2022 at No Man's Art Gallery located in Bos en Lommer: Willem de Zwijgerlaan 327 and Bos en Lommerweg 88-90 (mezzanine). Visit their website for additional information.