Bound by art and a quest for the unknown, Wura-Natasha Ogunji and ruby onyinyechi amanze, expand their collaborative journey stretching the limits of time and space.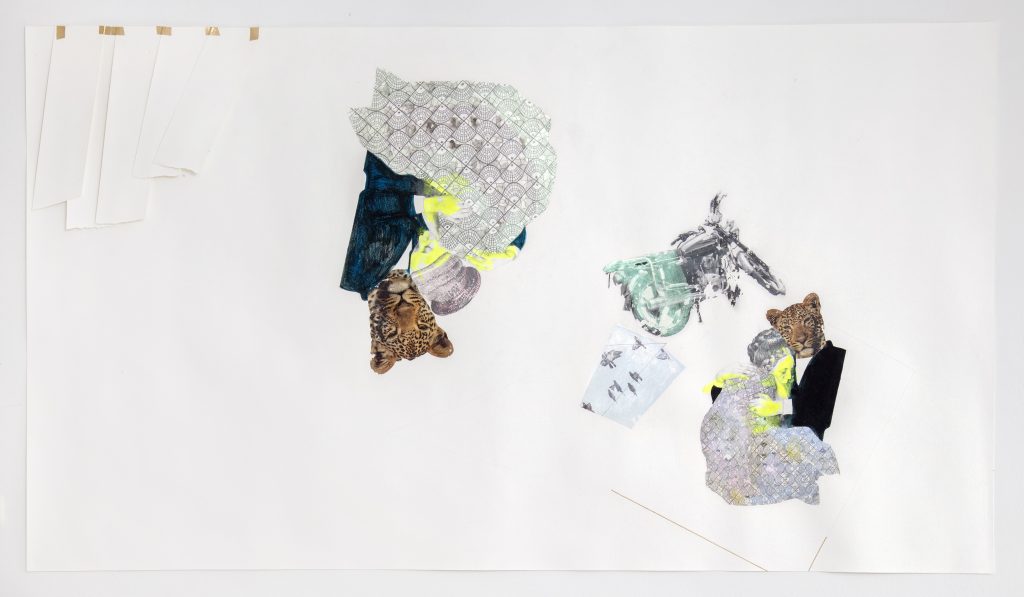 In mathematics, a line might be defined as the distance between two points. But a line does more than delineate distance; it also delineates a connection. Mathematicians and artists consider these two ideas when dealing with lines and space, although it is arguable that they do so in different ways. However, what is of interest here, when one considers the cover image on Fridman Gallery's webpage for the exhibition you are so loved and lovely depicting two artists holding hands while scribbling lines on glass is this: can a collaboration between two artists be thought of in terms of distance and connection?
you are so loved and lovely is an exhibition of works in conversation by ruby onyinyechi amanze and Wura-Natasha Ogunji. The show consists of mostly large-scale drawings, paintings and a selection of small-sized works from early in the artists' careers. There are also media installations like videos and audio recordings—totaling about 24 works. Both artists use mixed-media—mostly print materials and fabric in conjunction with drawings.
In amanze's Coal City (2019), there are about three layers of print on the canvas. Two layers contain photographs of bikes—one of them with plate number ENUGU: GB597ENZ which solidifies the title of the piece as a reference to Enugu state in Nigeria. Around the bikes are images of birds in flight. On the second layer with two bikes in the photograph, an iridescent film sheet covers the upper section of one of the bikes. It is the only source of color in the piece. It shimmers, like memory.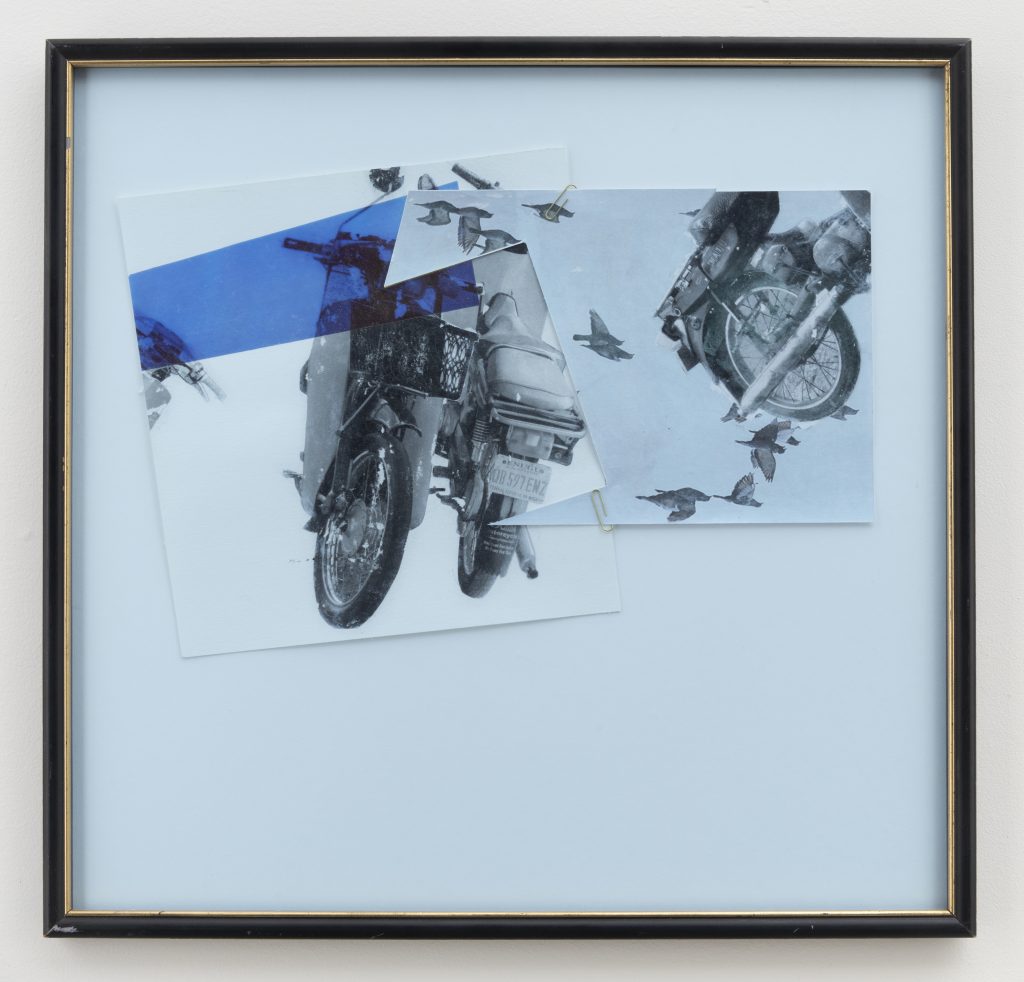 In Ogunji's The last beautiful (2019), an outline forms the shape of a woman's bust on tracing paper. The figure wears a colorful garment with different grades of blues, reds and oranges. There are flowers—outlined and painted with colored pencils—around her full mass of hair and birds around her face. The birds are made from thread and painted with colored pencils. They fall out of her eyes like tears.
There is a harmony of ambience in the paintings even though they are by two separate artists. Both employ mostly light colors, and even when dark colors are used, there is a nascent illumination behind the canvas. The paintings seem to be reaching for a certain kind of featheriness in the weight of their colors. Their heft does not rely on the intensity of painterly gestures but rather on the lightness of the artist's touch, every stroke is considered and communicative. Clarity, above obfuscation. 
The use of space in many of the paintings helps to accentuate the sometimes minimalist content. For example, in Ogunji's Levitate (2017), a male figure dressed in a red jacket and red tie with patterned bottoms and patterned shoes is walking against gravity, in the up-right corner of the frame. The character itself is first an outline on orangish tracing paper. The colors on his clothes and shoes are from coloring pencils, thread and ink. His gesture seems sullen: his eyes are closed and his head is bowed. In this painting the amount of space around him focuses the viewer on his frame. But it also does something else: it helps to establish that airiness of gravity, the viewer also is suspended, like the character in the painting.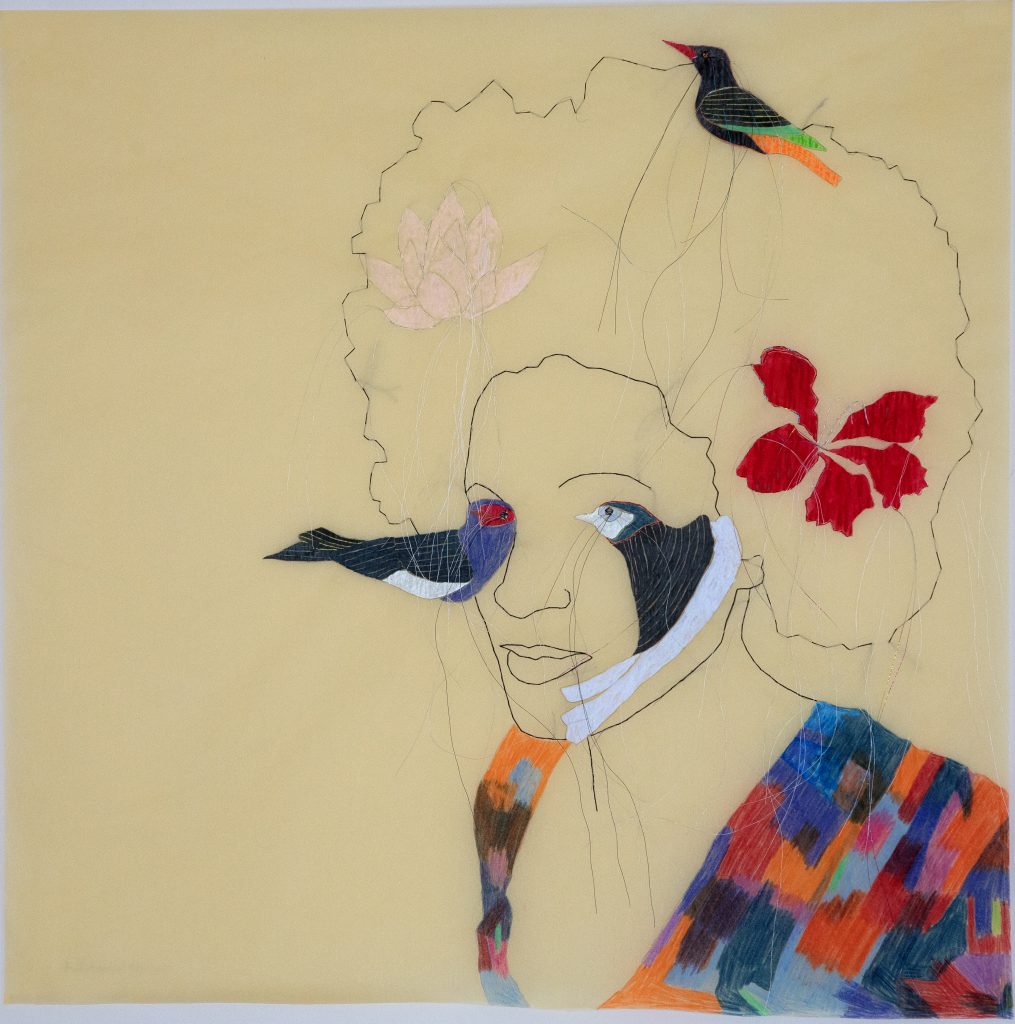 In amanze's at the same time or in coexistence with (2019), a collage shows strips of birds and bike photographs alongside a figure with a tiger head cradling a woman with hair that looks like one from the Victorian era. The woman is draped in a patterned blanket. Her eyes are closed, and her face is dabbed in yellow. The tiger-headed character also has yellow dabs around his hands. The woman appears to be asleep while the persona with the tiger-head looks directly at the viewer. The contents of the collage are arranged at almost 45 degrees. To the top-left of the frame is a set of white paper strips layered on each other and clipped to the frame with brown sellotape. The angles of the paper strips are inverted—opposite of the rest of the collage's contents, at almost 135 degrees. Here it isn't just space that matters in a coexistence, there is also a matter of the angles at which things coexist.
Downstairs, at the Fridman Gallery, there is an installation of a single-channel video by Ogunji. The piece, Will I still carry water when I am a dead woman? (2013), is a twelve-minute-long video of public performance and is the second in a series of five performances with the first one happening in 2011. In the video, about five women dressed in jumpsuits made from Ankara fabric perform the back-breaking task of hauling kegs of water tied around their ankles through the streets of Lagos. The women are all wearing masks, in the fashion of Yoruba masquerades. They are surrounded all through the performance by men holding long canes. The men help to guide them through the Lagos traffic and also use their canes on whoever attempts to get too close. As the women move around, the kegs give way and begin to leak. They get tired but press on. They disrupt traffic and the city's roads. But some other kind of disruption also happens: traditionally it is a taboo for women to participate in the Yoruba Egungun tradition, women are mostly onlookers in such conversations. What Ogunji does is to flip the conversation and to center women's labor in the narrative. How much change is society ready to accommodate for women?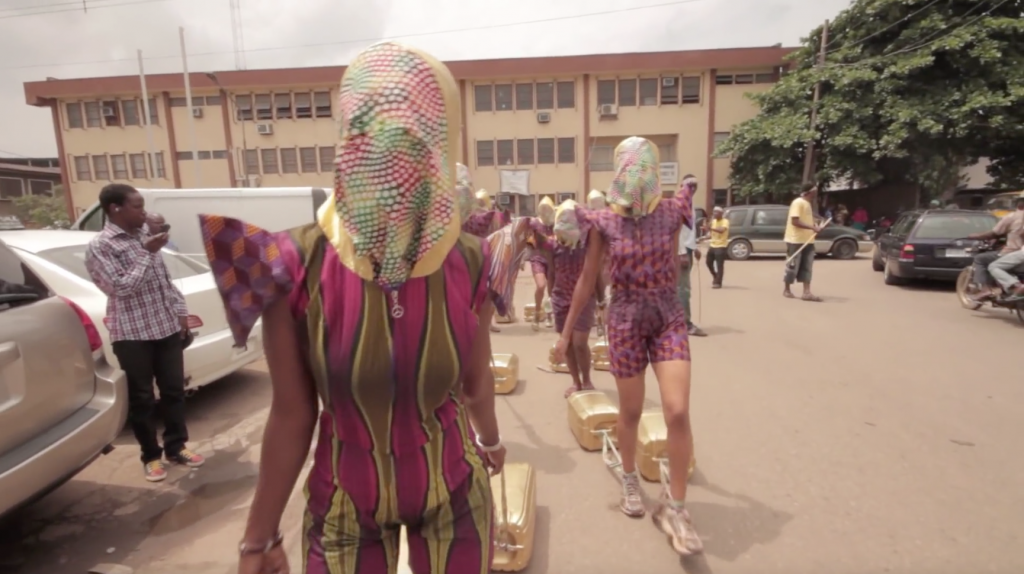 The only work created together by both artists in the exhibition is twin II (2019) featuring blacked-out and dripping images of body motions and lines with charcoal on plexiglass, steel and red oak frame. It stands at about 72 inches of height and 80 inches of width at the entrance of the exhibition, yet it is almost unnoticeable unless for those truly looking. Since it is probably one of the most important pieces of the presentation, one has to consider a question: is the almost unnoticeable placement of the work intentional? The see-through character of the glass also is an interesting metaphor for a consideration of the piece from two sides since it is an artwork created by two people. It also mirrors the cover art for the exhibition's press release as we seem to be looking at both artists through a glass.
In a conversation between both artists, Ogunji asks amanze how she would describe it if they both decide to make the same drawing over and over through their lifetime. She offers an explanation: "Separate or separated things connect over an expanse". amanze says that she would think of it as some calculated or mathematical and spontaneous arrangement of space towards some dance or poem. Again, connection and arrangement, distance and expanse. you are so loved and lovely is a bridge belonging to two artists who have worked together both in thinking and practice. But the artists are no longer on this bridge—they have traversed it to get somewhere. Instead the bridge is an invitation to the audience to enter a space these artists have already established between themselves.
you are so loved and lovely by Wura-Natasha Ogunji and ruby onyinyechi amanze at Fridman Gallery is on view from September 8 – October 12, 2019. 
Featured image: ruby onyinyechi amanze and Wura-Natasha Ogunji, 'twin', drawing and performance; 3 hours and 26 minutes. Performed at Frieze Art Fair, May 3, 2019. Courtesy of the artists and Fridman Gallery.
_
Yinka Elujoba is a writer and art critic living in New York.