Sean O' Toole, South African writer and critic, described Publishing Against the Grain as a "surprisingly diverse showcase of independent publishing". Indeed, it is, and rather unconventional for the Lagos art scene where I encountered the travelling exhibition. 
Involving over forty publications from more than five continents and organized by Independent Curators International (ICI) in New York, Publishing Against the Grain docked at the Centre for Contemporary Art in Lagos, Nigeria for four weeks between April and May, arriving from Zeitz Museum for Contemporary Art in Cape Town, South Africa.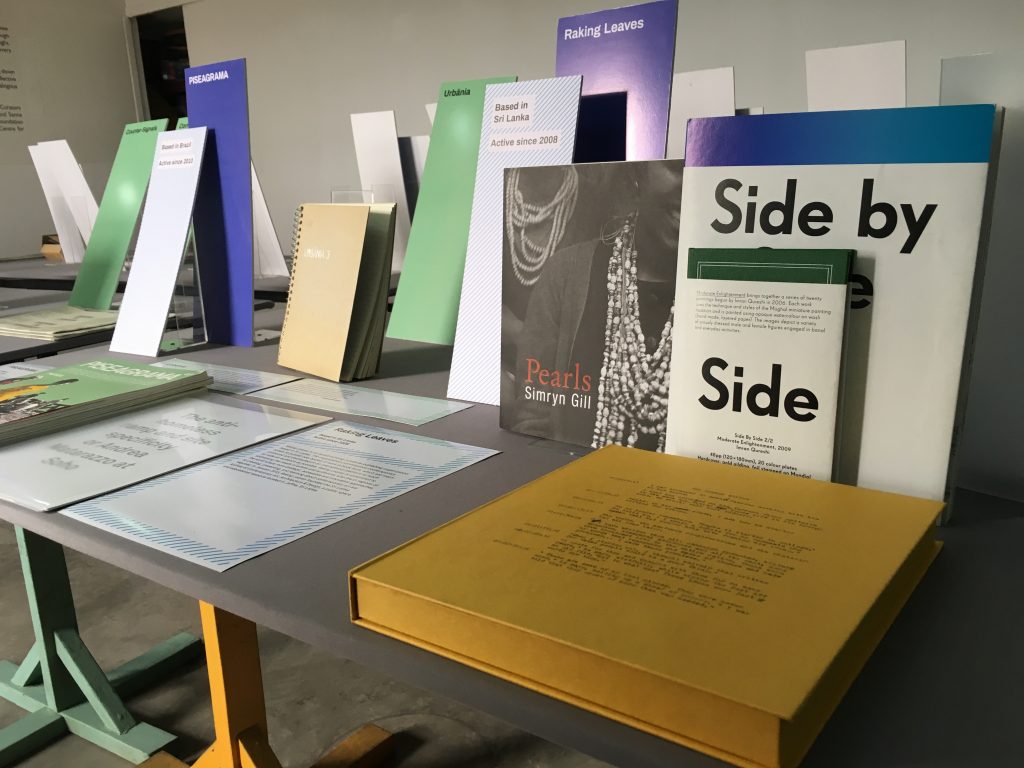 Contrary to the popular understanding of what an exhibition is (in Lagos), the pristine white hall at the CCA Lagos displayed books instead of artworks and only one of the walls functioned as a site of instruction for visitors. Although this is uncommon in Lagos, it is not unlike the CCA space which is well known for stimulating pedagogical activities and the practice of new media art in the Nigeria art scene. Above its exhibition space is a library, an open resource centre for materials on art and culture.  Materials at the library span a massive collection of books, magazines, journals, and audio/visuals on contemporary art, curatorial practice and critical theory. Over the years, the library has grown to be an important archive and research point for students and art practitioners. 

Publishing Against the Grain is urgent as it is necessary. Quieted voices are heard and geographical barriers become a myth.
In the exhibition, one encounters books published as far back as 1978, placed upright or horizontal in a simple but fascinating display, on a long table. Accompanying information appear in white bold fonts on colour-coded plaques of blue and green. The blue plaques indicated publications by independent publishers from the ICI's international network of collaborations while the green plaques indicated publications nominated by these publishers. Other publications in the exhibition exist online as their preferred place of encounter. 
Publishing Against the Grain is a combination of intersecting subjects such as history, contemporary aesthetics, migration, language, sex, gender, culture, politics and more. They come in the form of small journals, pamphlets, dictionaries, experimental publications that aren't quite books nor pamphlets, radios, and websites. Some of these publications defy the norm for how certain subjects are approached and this reflects in not just their titles but cover designs. 
Lies Journal, "Publishing Against the Grain," Centre for Contemporary Art, Lagos, 2018.




New Culture magazine, "Publishing Against the Grain," Centre for Contemporary Art, Lagos, 2018.
'Lies' is one of such publications. Nominated for Publishing Against the Grain by the publishers of Salt. It is a journal from the United States which started in 2012 by a queer feminist collective, men who have refused to wear the label society enforces. Their writings are unapologetic and their motive is clear. One might even describe them as 'aggressive' and they have no reservations about this. As stated on their site, "It is a communist publication against communists", in support of the marginalized – feminists, queer, and trans people. Lies is at war and its writers are taking no prisoners. 
An excerpt from the journal's Vol 1 reads: "You are on the brink of sexual freedom; it is here and at your disposal. It is asked only that you find it or make it. If before we were ugly, we may be beautiful now—still, you must make yourself natural, whole, and good. You were traumatized but you may recover, simply possess yourself. This is work to be done but it is a good work. Work on your shame, perhaps even fight those who shame you, and it follows that you will be free. At the end of it, you will be whole and you will have reclaimed your natural pleasure. The right of man is to fuck and to orgasm. Feel free with your body to do these things because they are good. The feminists and the sexual liberationists knew this and this is why their movement is over. Cosmo and Oprah know this now and therefore everyone knows it. Sex is good and pleasure is powerful, and it is this proposition that will save us from our pain."  
Another compelling publication is Art Against Art, a Germany-based magazine which started in 2015. It calls the attention of art writers and critics to modern day reality, to engage with the nuances of unfolding events, to cover the new crop of involvements and the many ways art is used – as a financial instrument, power, fame, status, representative of different socio-political realities. Art Against Art challenges writers and critics to confront these issues, however controversial or uncomfortable. It insists that it is only in accepting these realities that art can be written about meaningfully. 
One of the interesting things about Publishing against the Grain is that it grows as it travels. On reaching a new exhibition point, new publications are added by the host centre. A surprising but pleasant publication was nominated and added by CCA Lagos. Between 1978 and 1979, the magazine New Culture existed and focused on the visual arts. New Culture published critical writing on a number of art media and subjects including painting, sculpture, plastic art, cultural aesthetics, architecture, and performance art, and it was aimed at a broad readership – children and literary enthusiasts included – because of its varied scope. Among its editors and contributors, are names that hold some degree of authority but possibly unfamiliar in today's art scene – Demas Nwoko, Alfred Opubor, Taiwo Jegede, and Gbenga Sonuga to name a few. Mixed feelings of awe, loss and nostalgia surface as one flips through the magazine. The language and the critical manner in which art was engaged offered insights into the kind of works created at the time, unlike the present-day Nigerian art scene.
In South Africa, the experiences may have been different. A viewer only needs to be armed with curiosity to get by. Structured like a classroom, some of the books were opened on a table, almost carelessly, but in a way that was deliberate. Other exhibits were placed on a desk with chair, beckoning on wondering minds to sit, explore, learn, and maybe even disagree with the publication contents. This presentation style should have been repeated in  Lagos too. Nevertheless, this does not diminish the importance of the project. Publishing Against the Grain is urgent as it is necessary. Quieted voices are heard and geographical barriers become a myth. Human complexities are stripped as more pages turn, giving room for critical examination and cross-cultural interaction in a simple and unique way made possible by the curators.
Publishing Against the Grain continues at the Critical Distance Centre for Curators in Toronto, Canada from 14 June – 4 August 2019. 
All featured images are courtesy of Roli Afinotan, editorial coordinator and contributor at TSA.