A spotlight on some of the artists showing at ART X Lagos, taking place November 1 – 3, 2019, at Federal Palace Hotel, Victoria Island, Lagos.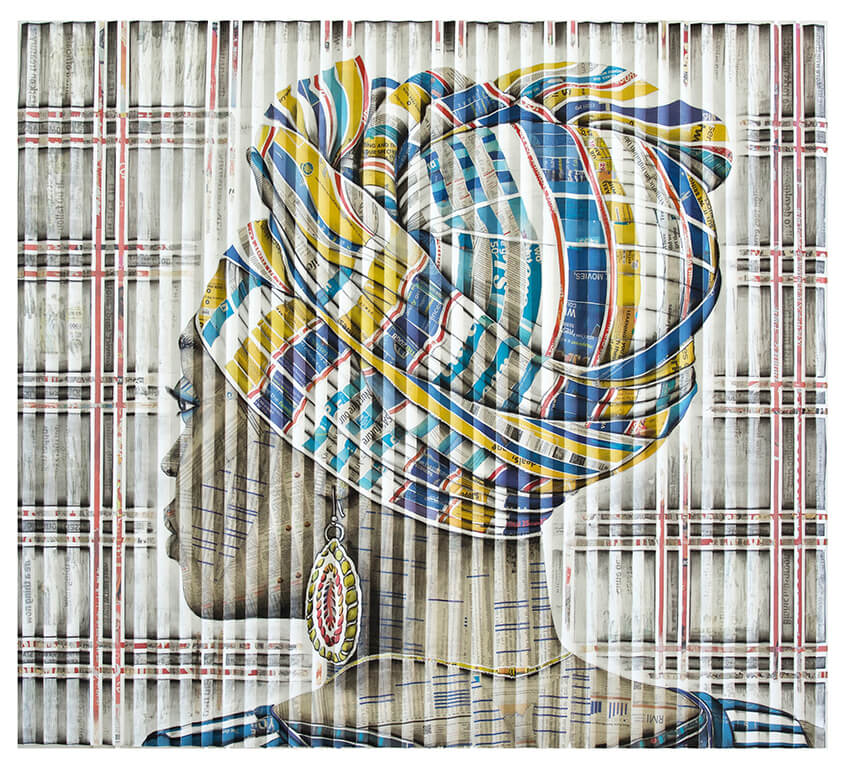 Come November 1-3, 2019, ART X Lagos, West Africa's premier international fair, will welcome art collectors and enthusiasts to its 4th edition at the Federal Palace Hotel, Victoria Island, Lagos. 
The fair has grown from hosting fourteen to twenty-three galleries from different international art hubs. Some of the galleries showing this year are SMO Contemporary Art (Nigeria), Bloom Art (Nigeria), Arthouse – The Space (Nigeria), Retro Africa (Nigeria), Goodman Gallery (South Africa), Galerie Cécile Fakhoury (Côte d'Ivoire), Tiwani Contemporary (UK), and Addis Fine Art (Ethiopia). Over ninety artists including Abe Odedina, Emeka Ogboh, Ngozi Schommers, Joy Labinjo, Gary Stephens and Peter Uka are participating at the year's edition. 
In no particular order, we present some of the artists to see at this edition of ART X Lagos.
Nelson Makamo (South Africa)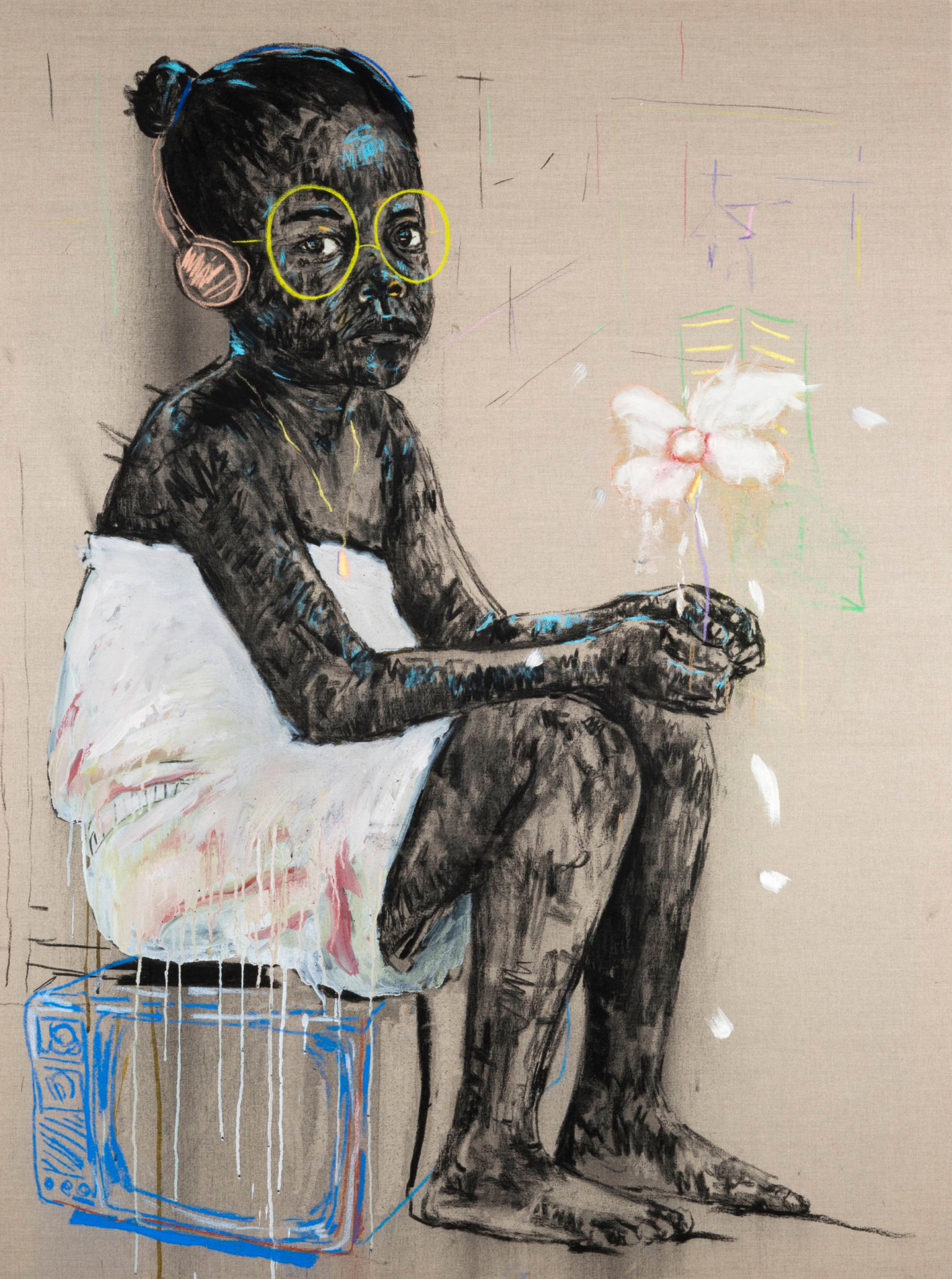 Born 1982, Nelson Makamo is a South African artist based in Johannesburg. He trained at the Artist Proof Studios in Johannesburg where he studied printmaking for three years. Nelson's work is influenced by the candid innocence of children, and as such, he is particularly drawn to children in rural South Africa. He believes that they embody the peace and harmony we all strive for in life, and the search for eternal joy lies in the child within us all. He uses charcoal, acrylic, water colour, mono-type, silk screen and oil to work, and adopts an intuitive approach in his creative process. Visual artist Dumile Feni has been a significant influence for him. Makamo has exhibited widely in group and solo exhibitions in South Africa, France, Italy, United States, Netherlands, the United Kingdom, Germany, and Scotland. His first solo exhibition "Walk with Me", was held at the Obert Contemporary Gallery in Melrose Arch, Johannesburg. His most notable group exhibition was alongside established South African artists in "Ten Years of Printmaking: David Krut Print Studio" in 2006. Invited artists included David Koloane, Colbert Mashile, Deborah Bell and William Kentridge. In February this year, his work Vision of a Limitless Future, was chosen as the cover of TIME Magazine's special issue "The Art of Optimism".
He will be exhibiting with Everard Read at ART X Lagos 2019.
Tega Akpokona (Nigeria)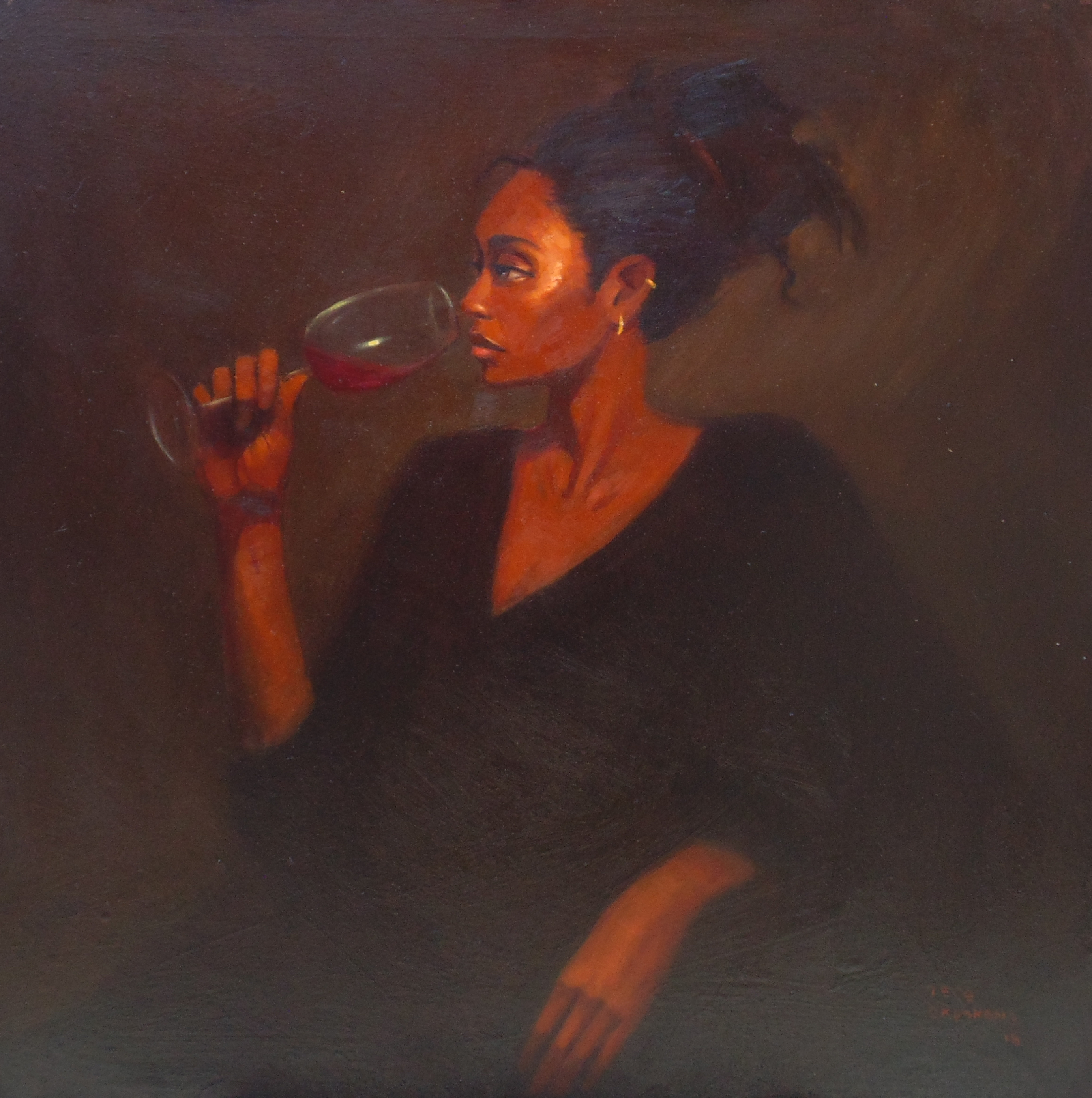 Tega Akpokona is one of Nigeria's young emerging artists. He graduated in 2011 with a BA in Fine and Applied Arts from the University of Benin, where he specialised in painting. After graduation, Akpokona received mentorship from one of Nigeria's acclaimed artist, Abiodun Olaku. His practice builds on the techniques of the European masters and shares their preoccupation with the effects of light and colour. He uses the techniques to create works with themes revealing deep human emotions and depict scenes of daily life. His work also reflects on issues in his immediate locale such as socio-economic matters and the everyday realities of living in Nigeria, all of which he renders in rich layers of oil paint on canvas. Akpokona's work is in significant private collections in Nigeria and abroad. He held his first solo exhibition, Timeless, in 2016 at Terra Kulture in Lagos, Nigeria, and was among the artists selected for Tafeta's summer 2018 exhibition.
Akpokona will be exhibiting with Bloom Art at ART X Lagos, 2019.
Henri Abraham Univers (Ivory Coast)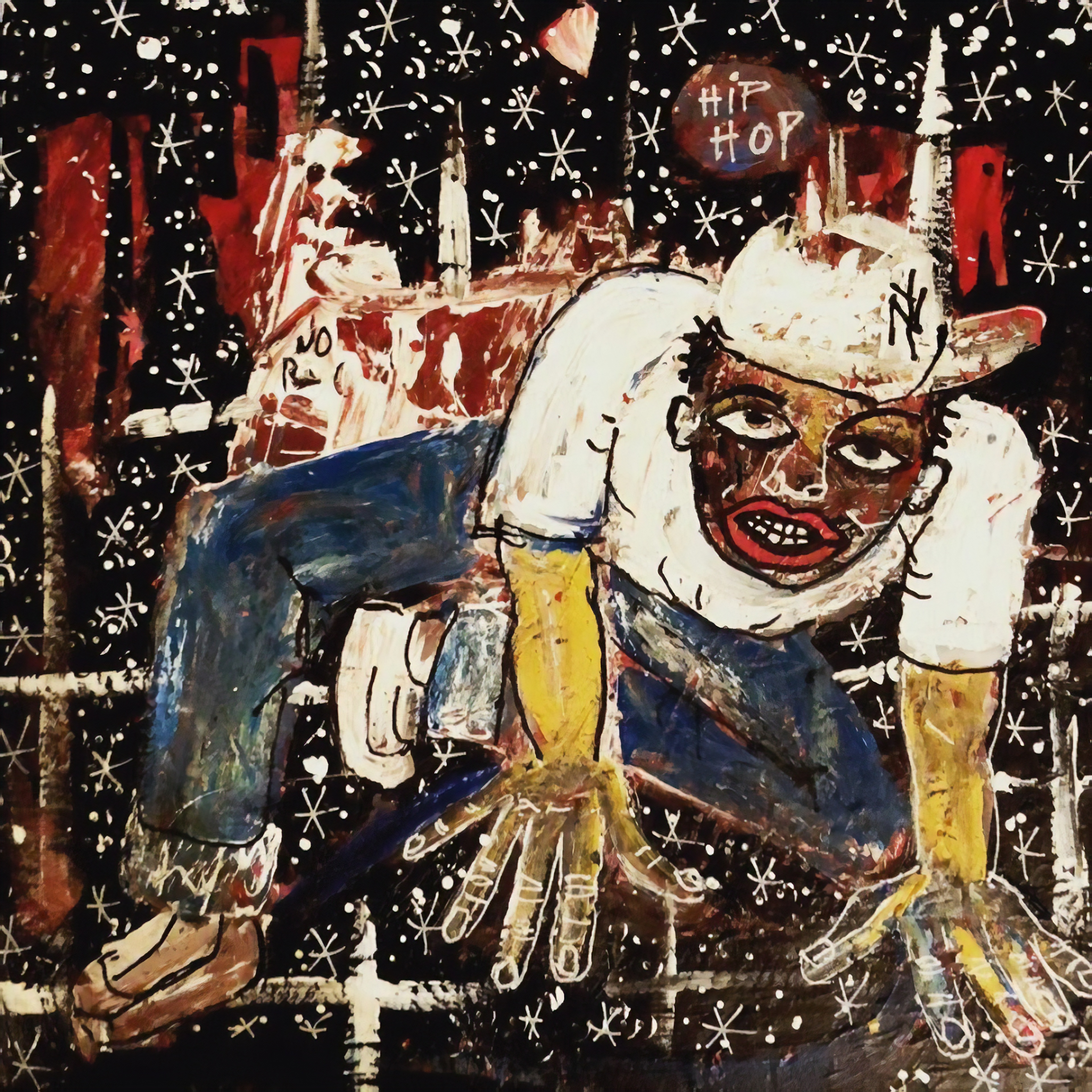 Henri Abraham Univers is a self-taught artist born in 1974 in Paris, France to a Burkinabe father and a French mother. He spent his childhood in Abidjan in Ivory Coast and grew up experiencing various aspects of the creative field: music, modelling, and painting. In 1999, he graduated from the Conservatoire Libre du Cinéma Français in Paris to work as a film director, but now ultimately works as a visual artist his preferred and more intuitive means of expression. After a stint in New York, Ouagadougou and Paris, he moved to London in 2010. In 2014, he was selected to exhibit at the prestigious Summer Exhibition of the Royal Academy of Arts in London. Subsequently, he returned to France and moved to Bordeaux where he currently lives and works.
Univers' realistic paintings characterize fields of black paint sprinkled with white stars symbolizing the sky, which the artist believes is ever-present regardless of what is going on in the world.
Retro Africa will present his Basquiat-influenced paintings as well as selections from his series "Ashanti Doll" at ART X Lagos 2019.
Evans Mbugua (Kenya)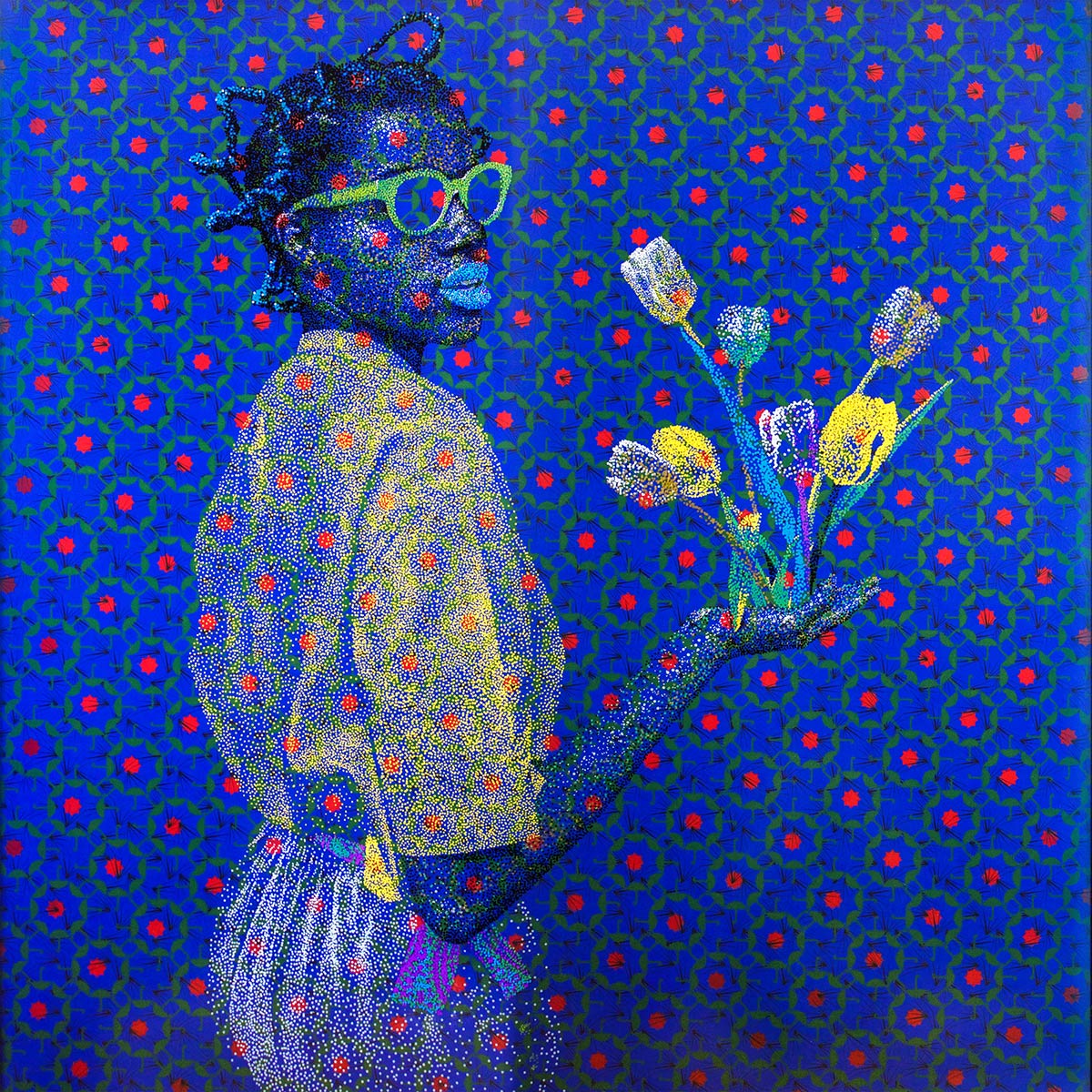 Born 1979 in Nairobi, Kenya, but resident in Paris, Evans Mbugua works as an artist and a designer. He studied graphic design at the University of Toulouse Midi-Pyrénées, which has come to bear heavily in his work. In his technique, which he calls 'Graphic Recycling', he uses colourful fabric print as the base/background for his portraits. These portraits are made by using a series of small-dot effects on glass and plexiglass. Mbugua composes images from dots, creating layers that result in shapes coming in and out of focus. The viewer must move towards or away from each piece to decipher what they see. His works manifest as pop art, similar in effect to artists like Warhol and Lichtenstein. According to Mbugua, on the ART X Lagos website, "Humans are at the centre of my practice because they are at the centre of my interest. Thus, I record hope, joy, zest for life, love, pleasure, a shout, pride, silence …". 
Mbugua has held solo exhibitions in Germany, the UK, Spain and France. He will be showing works with OOA Contemporary Art Gallery, at this edition of ART X Lagos.
Tizta Berhanu (Addis Ababa)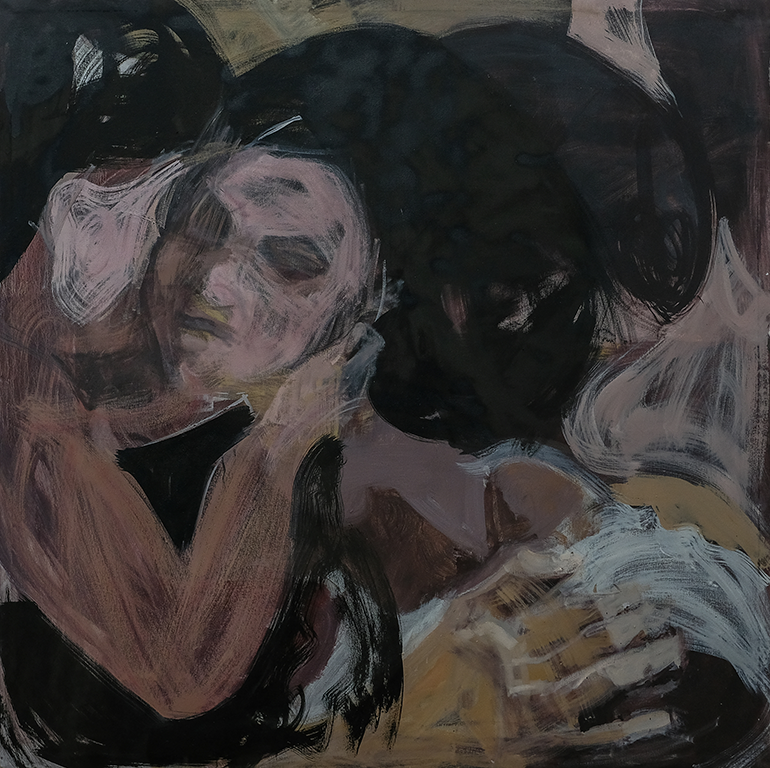 Tizta Berhanu was born in 1991 in Addis Ababa. She studied Fine Art and Design at Addis Ababa University's Alle School of Fine Arts and Design, and graduated with a BFA in painting, in 2013. Since graduation, she has worked as a full-time artist exploring new ways to channel her favoured medium—painting. Inspired by human emotions, Berhanu portrays her subjects expressing love, hate, and sadness. The resulting images, rendered in broad, confident brush strokes and deep intense colours, are often deliberately obscure. Blue, purple and deep sea-green tones are predominant in her works, creating an almost uncomfortable atmosphere wherein the viewer takes to the emotions portrayed.
Her work has been shown widely, including the National Museum, Addis Ababa, the Alle School of Fine Arts and Design, the National Gallery, Addis Ababa, Panache Art Gallery, Laphto Art Gallery, the Italian Culture Institute, as well as the Conso Cultural Institute.
Berhanu is exhibiting works with Addis Fine Art at this year's edition of ART X Lagos.
To see more artists showing at the fair, visit artxlagos.com.