The Ben Enwonwu Foundation in collaboration with the Society of Nigerian Artists, supported by Alliance Française Lagos and the Nigerian Copyright Commission is pleased to announce a new talk program titled 'Point of View' launching at Mike Adenuga Centre, Ikoyi on September 17, 2019. 
Conceived as a collaborative platform, the series brings together a diverse line-up of artists, curators, writers, thinkers and policymakers, to share their perspectives on the role of the visual arts in shaping society.
Also, drawing from other creative disciplines and experiences to take a broad view of the art scene in Nigeria and Africa, 'Point of View' proffers an innovative format, as well as a three-pronged approach that aims to encourage support and funding for the visual arts through public and private sector partnership while ensuring continuing professional development and empowerment for practitioners.
The first edition of the program will address a critical art market issue through the topic 'A Case for the Artist's Resale Right' in Nigeria. Unlike novelists and musicians, visuals artists do not benefit from secondary and downstream sales of their works. Indeed, their income pales in comparison to those other creatives, mainly because they do not earn significantly from the reproduction and communications rights provided to other creators under copyright law.
Unlike novelists and musicians, visuals artists do not benefit from secondary and downstream sales of their works.
The artist's resale right seeks to correct this anomaly by ensuring artists receive a small percentage of the resale price of a work. Although this right is recognised in the Berne Convention for the Protection of Literary and Artistic Works (Article 14ter), which sets minimum international copyright standards, it is optional, with only about 80 countries in adherence.
Today, visual artists around the world argue for a mandatory and universal application of the right, to ensure there is an equitable balance between artists and traders in their works, improvement in the traceability and pedigree of artworks and consequently the transparency of the global art market. In addition, resale royalties in place would enable proper cataloguing and authenticating of an artist's work, which are time-consuming and costly undertakings.
'Point of View' thus aims to establish an effective system for collecting resale royalties and remunerating artists alike by first providing answers to questions like Is Nigeria a member of the Berne Convention? How in practical terms can we support the development of the institutions, systems and procedures that would ensure the easy, efficient and cost-effective application and management of a resale royalty scheme? How can Nigerian artists receive royalties for their eligible artworks sold in reciprocating countries (which have implemented Article 14 of the Berne Convention)? How can artists from reciprocating countries receive royalties for their eligible artworks sold in Nigeria? Are the same rules to be applied in the case of a derivative work? Who would be responsible for paying the resale royalty rate? What should be the basis for its calculation; the sale or auction price? 
Some of the speakers at the event are Neil Coventry, Nigeria representative of Bonhams, Oliver Enwonwu, Executive Director of The Ben Enwonwu Foundation, Femi Lijadu, Chairman, Nigeria Securities & Exchange Commission, Dr. Simon Ikparonyi, Acting Director-General of the National Gallery of Art Nigeria and Ngozi Aderibigbe, Head Technology, Media & Entertainment of the law firm Jackson, Etti & Edu. One of the sessions, focusing on "Legislation and Implementing Artist's Resale Right in Nigeria", will be moderated by Seun Alli, an experienced legal practitioner and arts consultant.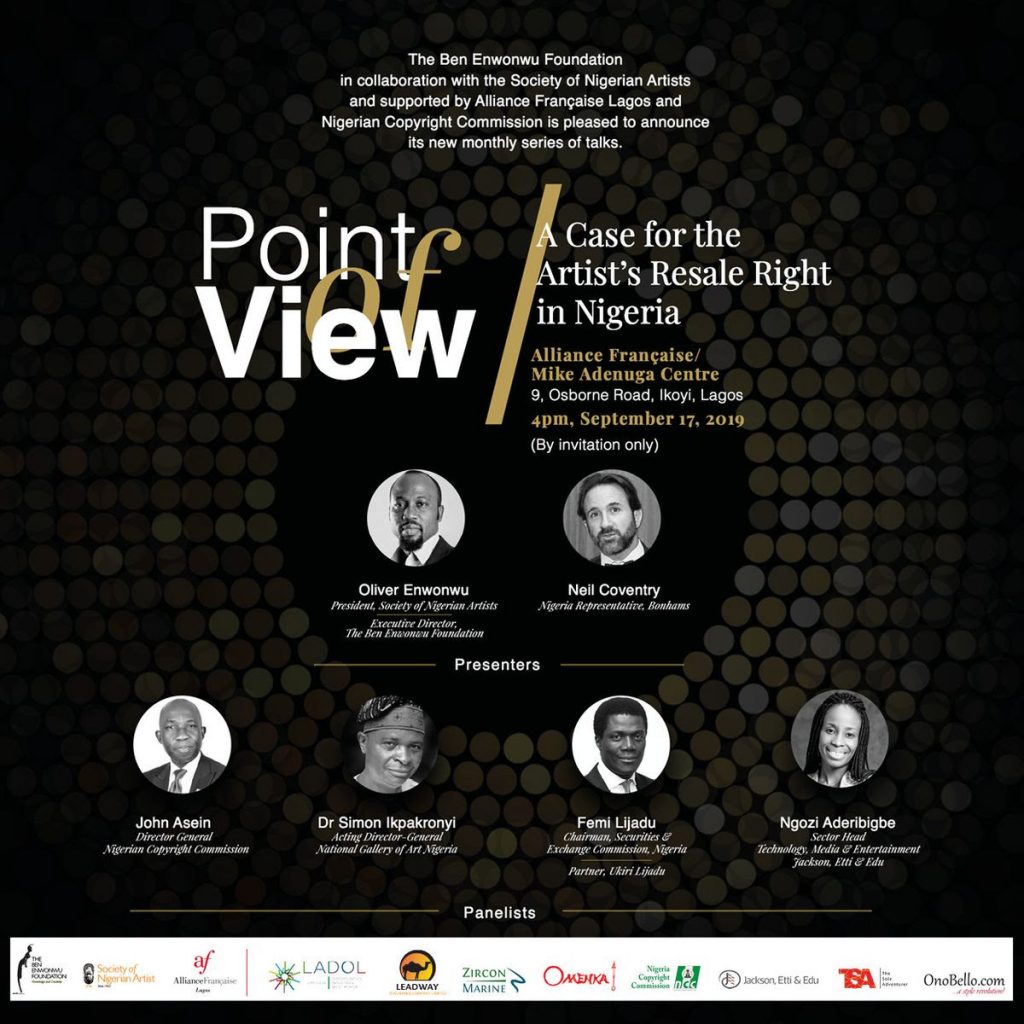 Established in 2003, the Ben Enwonwu Foundation honours and celebrates Nigerian artist, Professor Benedict Chukwukadibia Enwonwu MBE, NNOM (1917-94). Enwonwu was the first Nigerian artist to gain international acclaim and first professor of art in Nigeria. He was the first Nigerian artist to be conferred Member of the distinguished order of the British Empire and first African artist to be commissioned to sculpt Her Majesty Queen Elizabeth II. The first federal art adviser, Ben Enwonwu ranks among the greatest artists in the world.The Foundation aims to sustain and build on his life and works through which he forged a philosophical basis for contemporary Nigerian art by fusing Western techniques and indigenous traditions. Enwonwu is widely acclaimed as Africa's pioneer modernist artist, his success increasing the visibility and appreciation of modern art in Africa.
Through scholarships and grants, The Ben Enwonwu Foundation supports research, exhibitions and publications that foster innovative and scholarly artistic expression. Currently, the scholarship scheme benefits students of Yaba College of Technology, Ahmadu Bello University, Obafemi Awolowo University and the University of Lagos.
The 'Point of View' series is sponsored by LADOL, Leadway Assurance Company and Zircon Marine.