Barthélémy Toguo's solo exhibition entitled "Bilongue", currently showing at Stevenson, Cape Town, commenced on January 23, 2019. "Bilongue", a title derived from the name of a neighbourhood in Douala, Cameroon, is his third solo exhibition at Stevenson, following "Celebrations" in 2014 and "Strange Fruit" in 2016.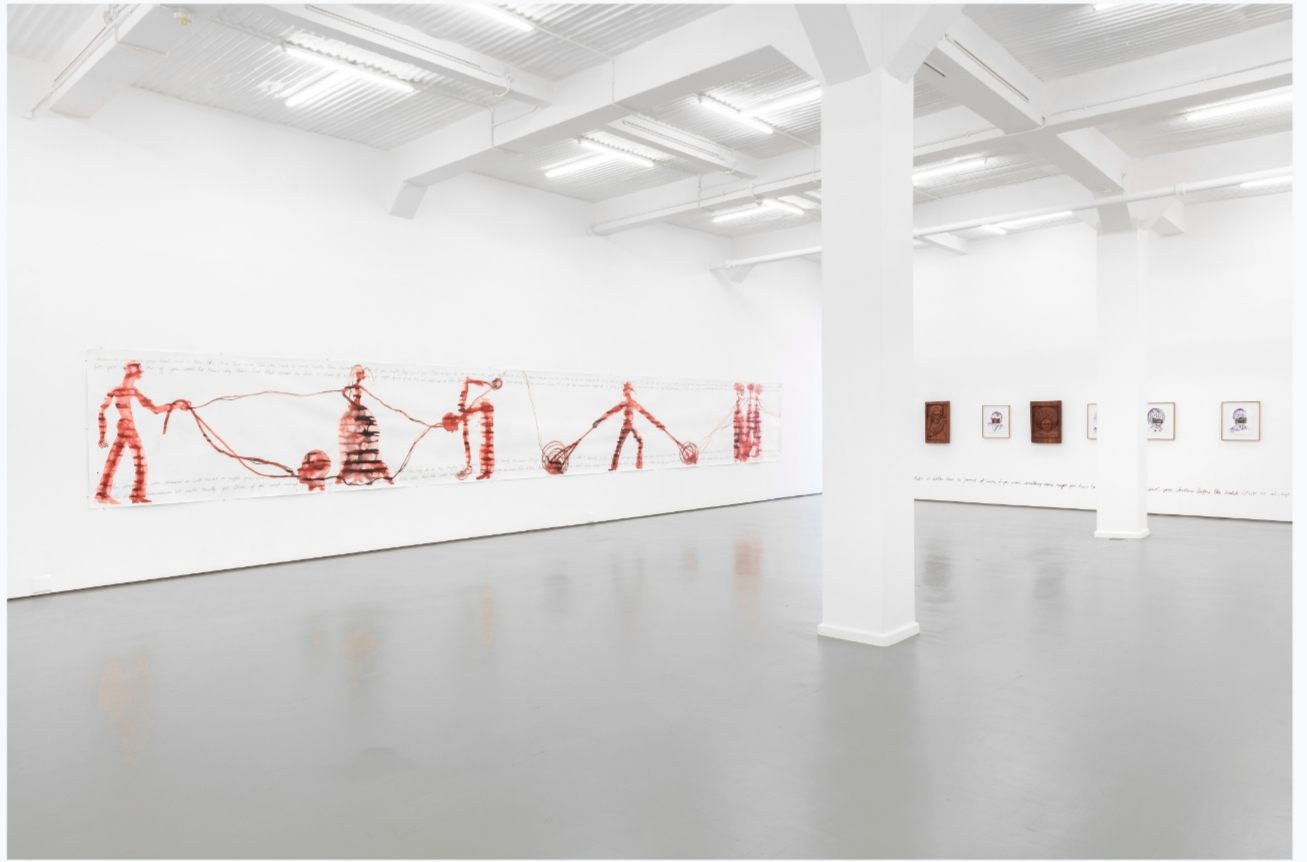 While the artist's previous exhibitions interrogated social malaise and revelled in 'life with all its feelings' respectively, "Bilongue" unites these preoccupations as Toguo pays homage to the sufferings and joys of the residents facing inequitable conditions in this neighbourhood in Douala.  
In preparation for his participation at the 56th Venice Biennale "All the World's Futures" curated by Okwui Enwezor, Toguo worked for some months in Bilongue.  "I met incredible people and told myself I had to come back to Bilongue to portray them. These are people who left poor cities to come to Douala and figure themselves out. They came to settle down in a very challenging area. And they live there and survive there daily, not through violence but through solidarity," he states. 
The portrait forms on both wood and paper recurrent throughout the exhibition depicts the people of Bilongue, crafting an enduring tribute. In a series of drawings, colonial-era photographs are placed at the centre of portraits delicately rendered in ink and watercolour and bordered by idiomatic phrases of common wisdom. Portraying schools, rivers, trading posts, settlements and plantations, the photographs function as reminders of the colonial encounter and its residual impact. However, Toguo resists the narrative of victimhood, foregrounding instead, the persistence of insightfulness and dignity within adversarial systemic conditions.
Born in 1967 in Cameroon, Toguo lives in Paris and Bandjoun. He trained at the École Nationale Supérieure des Beaux-Arts in Abidjan, Ivory Coast; the École Supérieure d'Art in Grenoble, France; and the Kunstakademie, Düsseldorf, Germany. In 2007, he founded Bandjoun Station, a centre for artistic exchange between local and international artists featuring residencies, an exhibition space, a library and plantations in Bandjoun, Cameroon. 
"Bilongue" is on view at Stevenson Gallery until March 7, 2020. View works from the exhibition below.