Curated by SMO Contemporary Art, "Connecting the Dots" is a solo exhibition presenting over forty works of paintings, sculptures and mixed media installations by Olumide Onadipe. With these works, Onadipe tackles issues of global consumerism against the backdrop of daunting environmental pressures facing a lot of Africans every day.
"The materials I explore, polythene bags, newspapers, jute and cement bags, electrical cables, ink, paint, wood, and metal reflect "ordinary" Nigerian life and question our consumerism," commented Onadipe whose work is referenced against Africa's rich history.  "A continent that once supported the economy of the rest of the world now has the need for support and a people of earliest inventors and inventions have become consumers."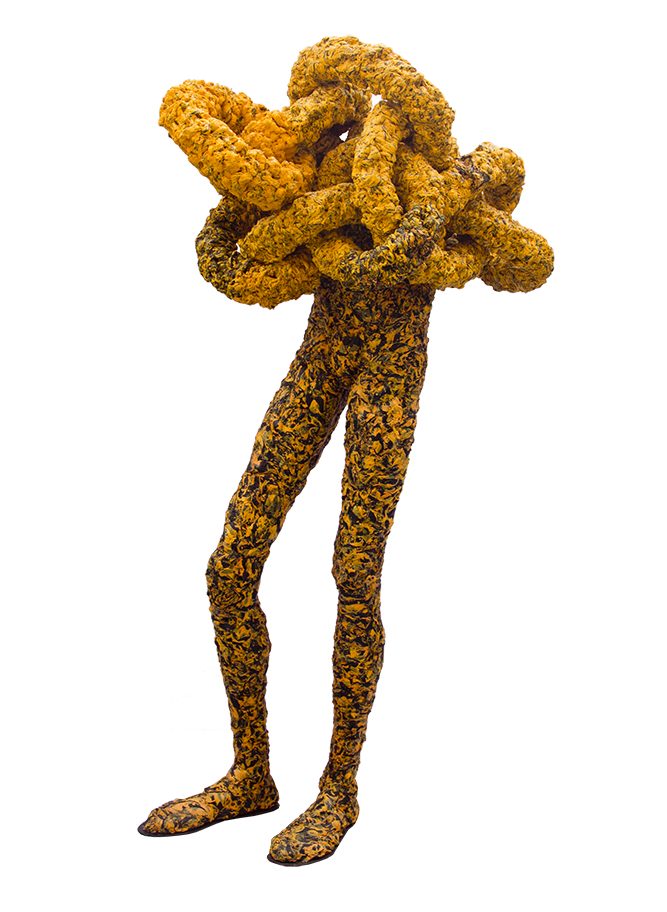 Onadipe's artistic dexterity is palpable – he makes use of plastic shopping bags, water sachets, juice packs, and newspapers which are repurposed into stunning life-size sculptures and geometric-shaped installations. In presenting his paintings, Onadipe's palette is eclectic, which he combines with rich materiality and textural freedom, showing human forms emerging out of intricate tangles of roots and leaves.
"In Connecting the Dots we see an artist who boldly questions the status-quo, and whose art has swept him to the very cusp of the rising tide of contemporary art coming out of Nigeria," said Sandra Mbanefo Obiago, Artistic Director of SMO and curator of the exhibition. "His expression is in-sync with the aspirations of millions of Nigerian youth trying to seek better livelihoods within a totally overburdened natural and political ecosystem."
Onadipe graduated with a Bachelors' degree in painting from the University of Nigeria, Nsukka in 2008 and earned his Masters' of Fine Art in 2012 from the University of Lagos. He has taken part in numerous exhibitions in the United Kingdom, Ghana, and Nigeria and is in important local and international art collections.
Connecting the Dots opens to the public from May 14 2018 to August 30 2018 at Temple Muse, 21 Amodu Tijani, Off Sanusi Fafunwa, Victoria Island, Lagos.