The best parts of 1-54 Marrakech 2020 and the projects that strongly exemplify the concepts of human connection, home, roots, and identity.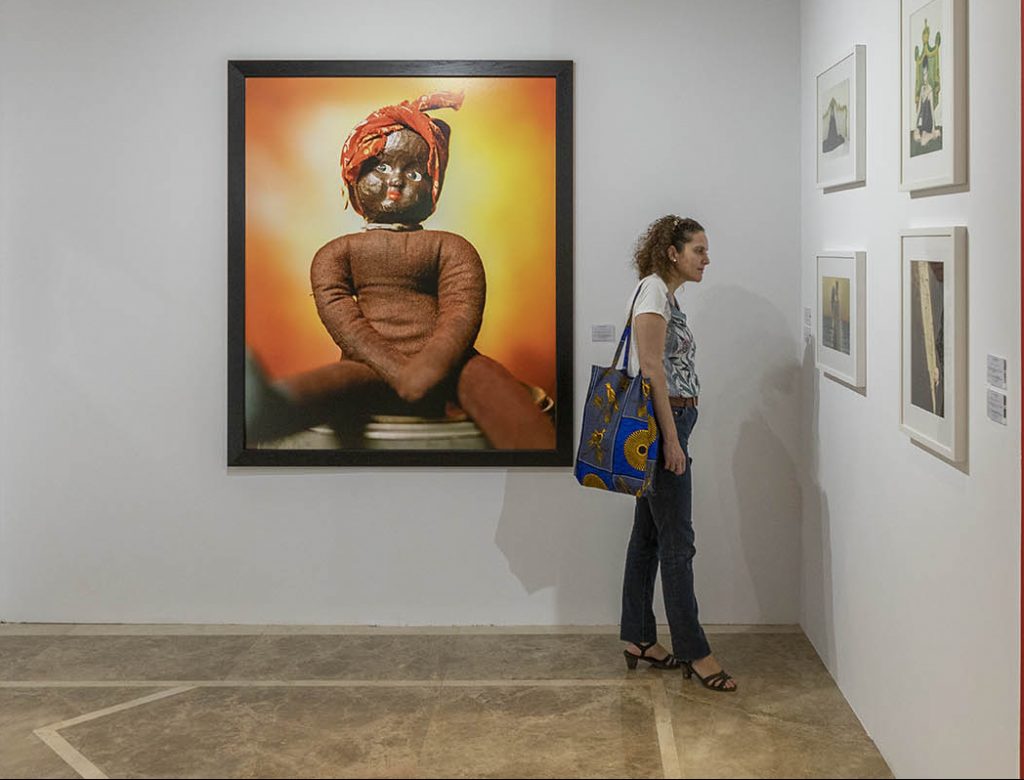 From February 22-23, 2020, Marrakech welcomed back the 1-54 Contemporary African Art Fair for an exciting third edition, with VIP previews two days prior. Since its inauguration at the prestigious La Mamounia Hotel in the winter of 2018, 1-54 Marrakech has aimed to showcase the talent of the 54 African countries and the African diaspora.
"We are thrilled to be returning to Marrakech for the third year and celebrate a milestone that half the galleries are based in Africa and across Africa," said Touria El Glaoui, 1-54 Founder and Art Director.
This year, a new kind of synergy resembling that of a biennale was felt by Marrakech locals and the over 6,000 visitors at the art fair. These visitors include museum directors, curators, and collectors affiliated with museums and non-profit institutions from the Aga Khan Museum to Sotheby's and Tate Modern. They witnessed the presentation of seventy-plus artists – both emerging and established – by twenty galleries from Belgium, Côte d'Ivoire, Egypt, France, Germany, Italy, Morocco, Senegal, South Africa and the United Kingdom.
The third edition also saw the launch of the new 1-54 App, which allowed users to navigate the Fair, save their favourite artists and galleries, explore the VIP and Forum programs and RSVP to events, thus adding to the status of Marrakech as a sophisticated hub for contemporary African art. "In the past twenty years the scene has developed a lot. Morocco is quickly becoming one of the centers where people can display art and artists on the rise. On the map of the art world, you will now start finding Marrakech," said Primo Marella of Primo Marella Gallery.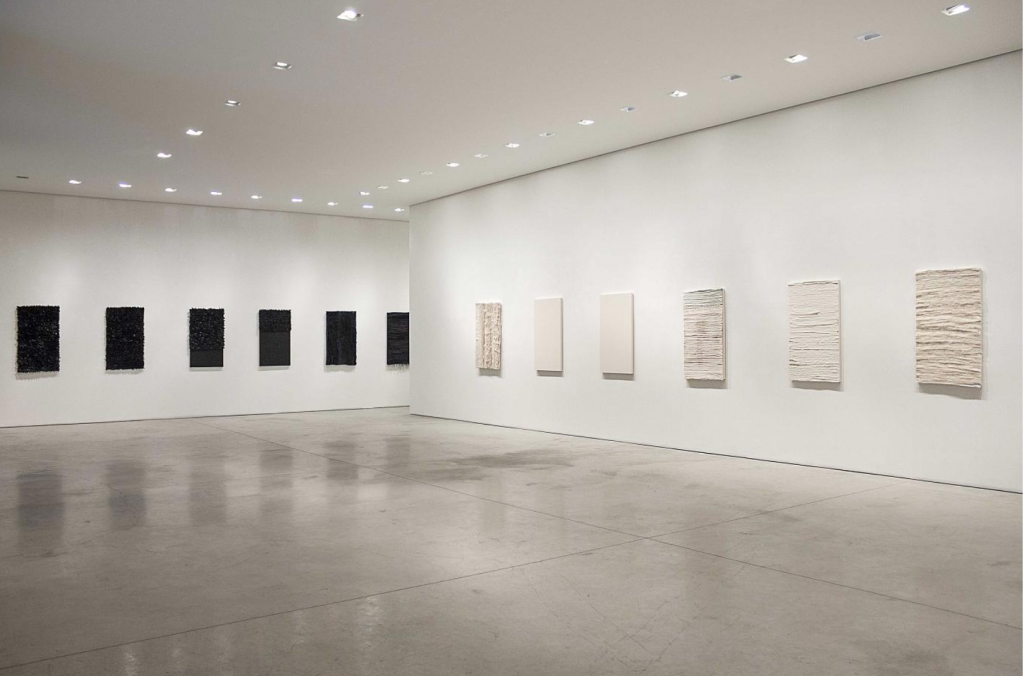 Through the previous editions, the Fair extended its global network and also its reach within the local Marrakech community. As reported in TSA's review of the second edition, the Fair is strongly stepping into the absence created by the Marrakech Biennale. While the event does not cancel out the need for a biennale, it does offer a cultural synergy that comes from having a section such as the 1-54 FORUM and several "OFF" exhibitions.
Despite the contrasting natures of an art fair and biennale, it is clear that the 1-54 Art Fair embraces both; and this progression is a natural one. Marrakech, the Red City, has long attracted art enthusiasts and fashion designers like Yves Saint Laurent, Pierre Bergé, Dior and public icons such as Winston Churchill and Alfred Hitchcock. Morocco, and Marrakech in particular, is rich in history, culture, and heritage. It explains why, over the past twenty years, more art houses continue to populate Marrakech. French town Gueliz boasts names like Galerie Siniya28, David Bloch Gallery, Comptoir des Mines, Galerie Tindouf, Musee Yves Saint Laurent, and the Voice Gallery. The Medina receives a lot of visitors for Galerie Dar el Bacha, Khalid Art Gallery, and Hassan Hajjaj's Riad Yima. A few miles outside of Marrakech, the MACAAL and Montresso Art Foundation continue to raise the bar with innovative exhibitions and events.
It was always crucial for 1-54 founder and art director, Glaoui, to initiate the art fair on the African Continent. After launching and presenting successful editions of the 1-54 Art Fair at Somerset House in London and then in New York, it became clear to her that it was time to bring the art fair home. The decision had multiple motivations. Glaoui sought to honour her legendary father Hassan El Glaoui – best known for his fantasia horsemen paintings – and also to share with the world that Marrakech has long been at the forefront of international artistic production.
In 2019, Glaoui focused on "developing cultural relations between all three continents, supporting local collector interest in contemporary African art, and nurturing a south-south collecting pattern." In 2020, the 1-54 Marrakech agenda has evolved further, featuring socially engaged art practices. Alongside its robust visuals, the 1-54 FORUM, led by Elvira Dyangani Ose and curated by The Showroom, London, commanded a synergistic program. Entitled On Focus: Communal Knowledge At Large, it "interrogated and discussed socially engaged practices to understand if the Showroom's decade long program can produce new avenues for socially engaged art." 
While 1-54 Marrakech 2020 exhibitions had no specific theme, a pattern of subject matters embracing topics like home, roots, identity, and socially conscious practices were prominent. Themes encouraging more human connection were also present at the Fair partner events, "Off Projects", and other exhibitions throughout Marrakech. Our article highlights the artists that stood out and the projects that best exemplify some of these themes. 
ARTISTS WE LOVE
Lakin Ogunbanwo (Nigeria) / WHATIFTHEWORLD Gallery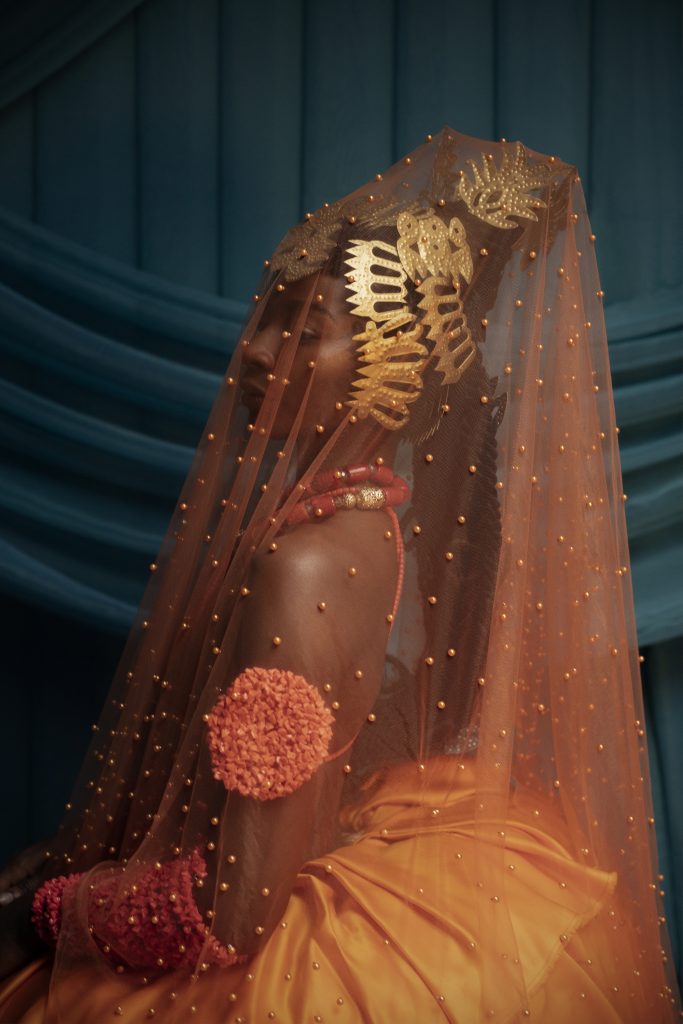 Lakin Ogunbanwo's e wá wo mi (come look at me) photographic series was announced as the first winner of a new residency program by 1-54 Art Fair in collaboration with the Thami Mnyele Foundation, Amsterdam. E wá wo mi explores the complexity of culture surrounding Nigerian brides and marriage ceremonies by photographing them with their heads covered in veils. He presents these brides in a celebratory way and frames them in a style reminiscent of goddesses or queens. Ogunbanwo is fascinated with the traditional ceremonial wear used by tribes like the Yoruba, Igbo and Hausa-Fulani. This work explores the role of the woman and the expectations placed on her from her wedding day onwards. 
Abdoulaye Konaté (Mali) / Primo Marella Gallery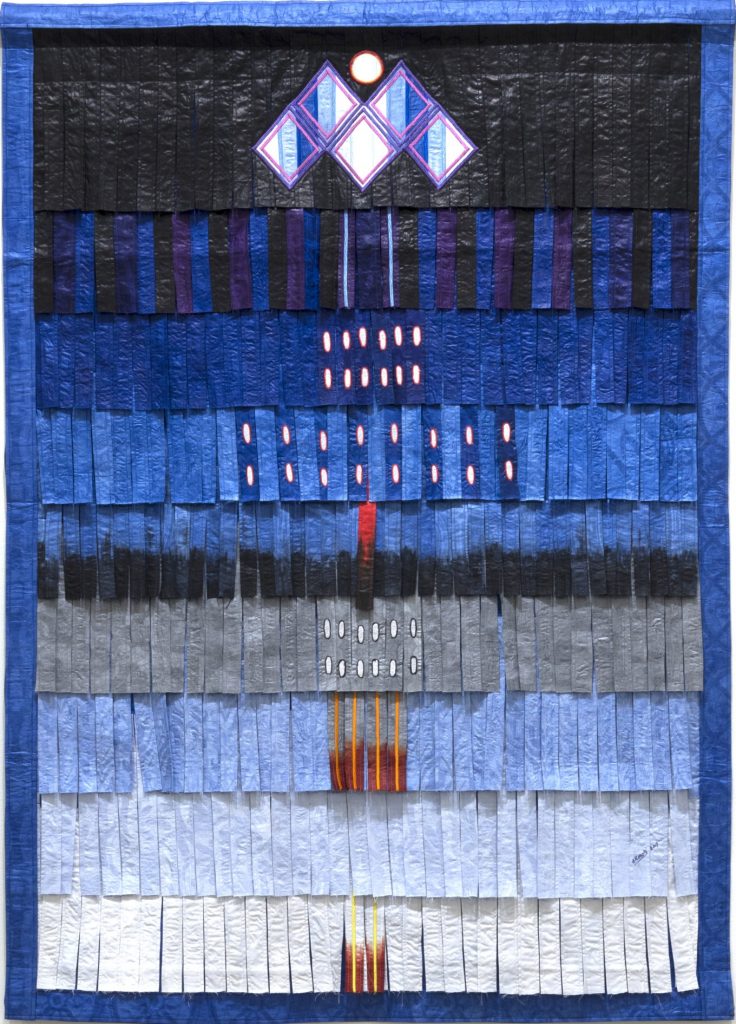 Abdoulaye Konaté's latest works use a symphony of colours that emanate joy, hope, and other symbolism. They cast aside his usual political issues but remain consistent in the themes speaking about human and nature. The Bleau Aux Coquillages 3C is part of a series of colourful textile works that use colour as a flowchart and articulate space, time, and tell stories about society and ancient symbolism. In Africa, colour is considered to be full of power and meaning and can provoke memories for each community. The blue in this work indicates the sea and rivers and is a medium for life. Other textile works in this series show combinations of white, black, and red. Red, for example, conveys power, blood, and overflowing life while black and white indicate absence and knowledge. This series also speaks about African countries moving towards independence. One of Konaté's textile works refers to the Ghana national flag in 1958 with three pan-African colours: red, yellow, and green (same colours as the Malian flag and other National flags in Africa). Once each textile is dyed in colour, it takes on new energy and power. In Konate's work, black shows liberty, red is independence, yellow is sun, prosperity and the golden desert, and green symbolizes hope. 
Soukaïna Aziz El Idrissi (Morocco) / Voice Gallery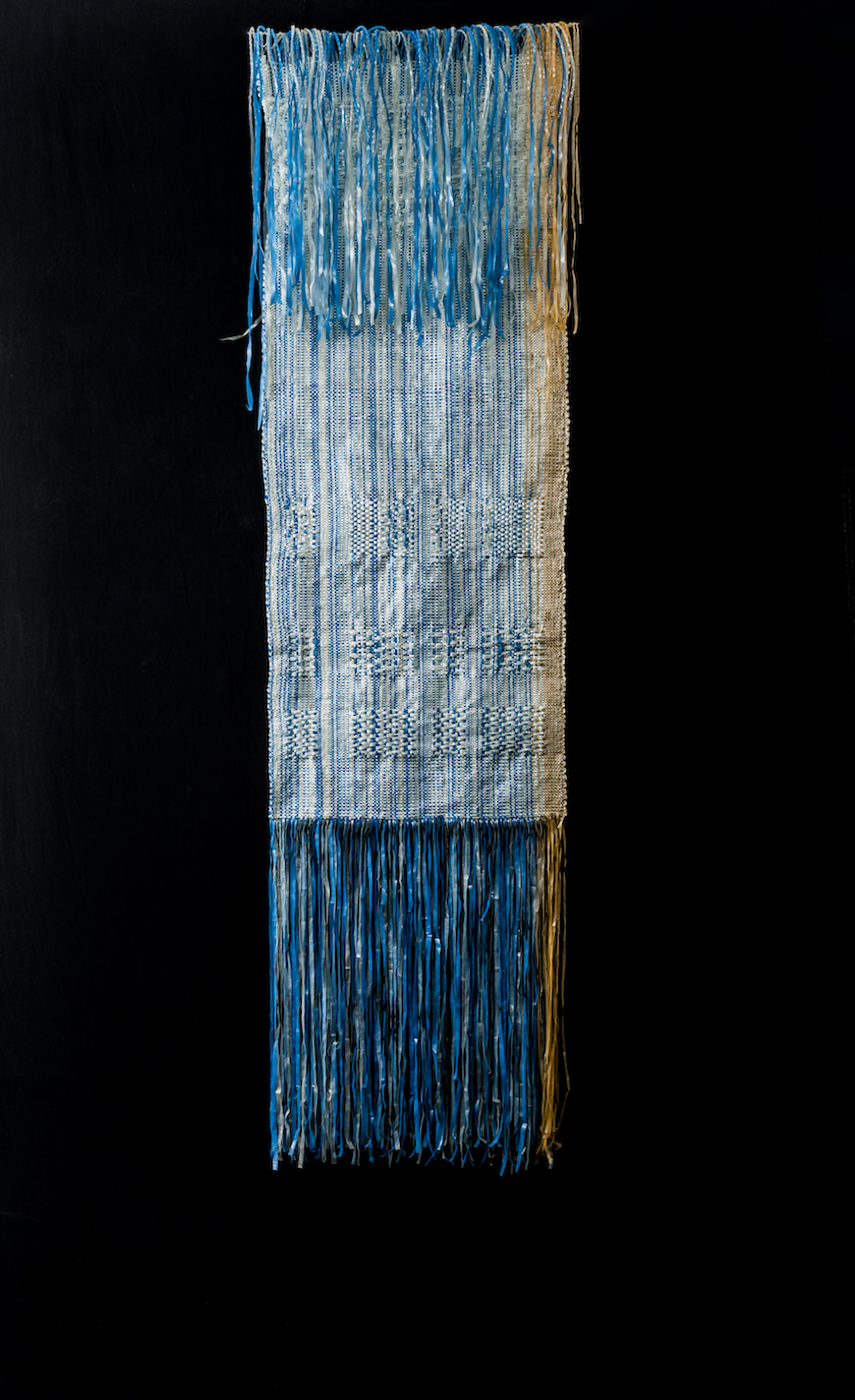 Soukaïna Aziz El Idrissi's 24 Sha Blue/Orange is handwoven mixed polymers from discarded plastic waste. The work is part of Soukaïna Aziz El Idrissi's aim to create art inspired by upcycling. For the past eight years, the thirty-two year old artist from Casablanca has extended her research to exploring all possible use for the materials considered "trash". She interrogates its use, value, and the perception around it. Idrissi uses a variety of experimental techniques to present these concepts. Between 2005 and 2014, Idrissi lived in London, from where she earned a BA at the Central Saint Martins College of Art in Textile Design. She specialized in weaving. Later, she went on to receive an MA in Design, Craftsmanship and Entrepreneurship at Northumbria University, Newcastle. During her studies, Idrissi implemented her knowledge by teaching at several artistic events, seminars and symposiums. In 2018, she participated in MACAAL's Second Life exhibition.  
Joël Andrianomearisoa (Madagascar) / Primo Marella Gallery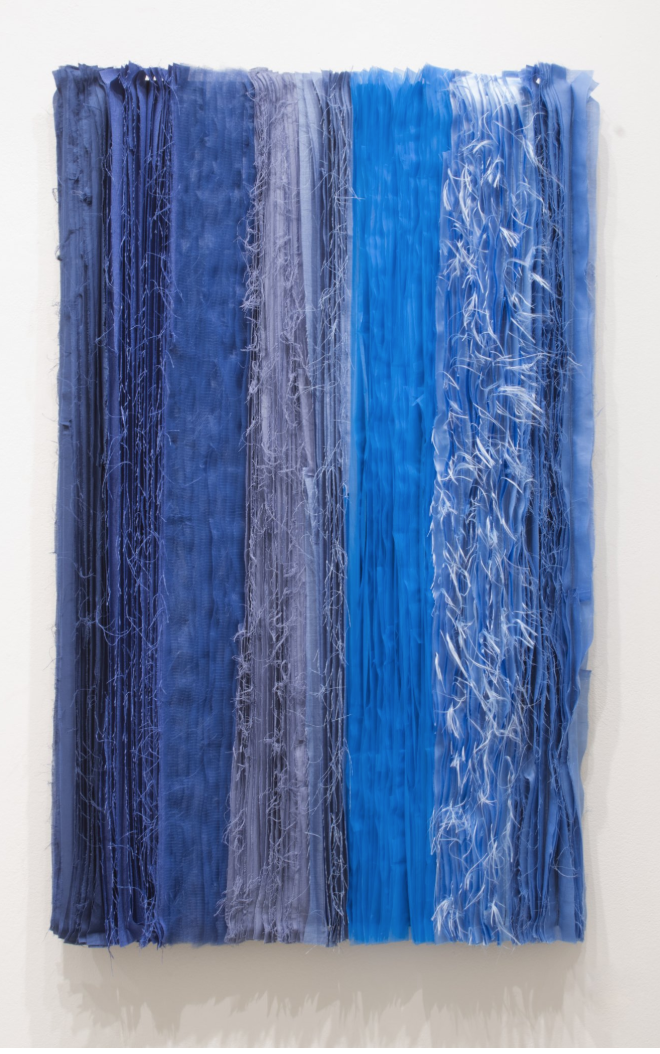 Joël Andrianomearisoa's monochrome installations are created with soft, brittle and often delicate materials such as paper and fabric. He is a master at using textile, all in horizontal or vertical stripes, to create movement, vitality, and shade. For him, every colour conveys a wave of emotions that he uses to deconstruct his work.
The colour black is crucial in his work. It represents an accumulation of variety and overlapping, and indicates infinite possibilities and shades that can be continuously reinterpreted and challenged. His latest works, presented at 1-54 Marrakech, reflect the energetic commotion of noise, smells, images, lights, and movement that are caught in urban spaces. In them, unidentifiable notes of sadness and a strong intensity emanates He says that "his work means nothing and everything," however he feels the most strongly on the subject of time. "What frightens me most is never to be on time, to be outdated. My way of answering this challenge is to be permanently against the current." As a result, he incorporates many disciplines into his work that includes fashion, design, video, photography, scenography, architecture, installations, and visual arts.
Mounir Fatmi (Morocco) / Goodman Gallery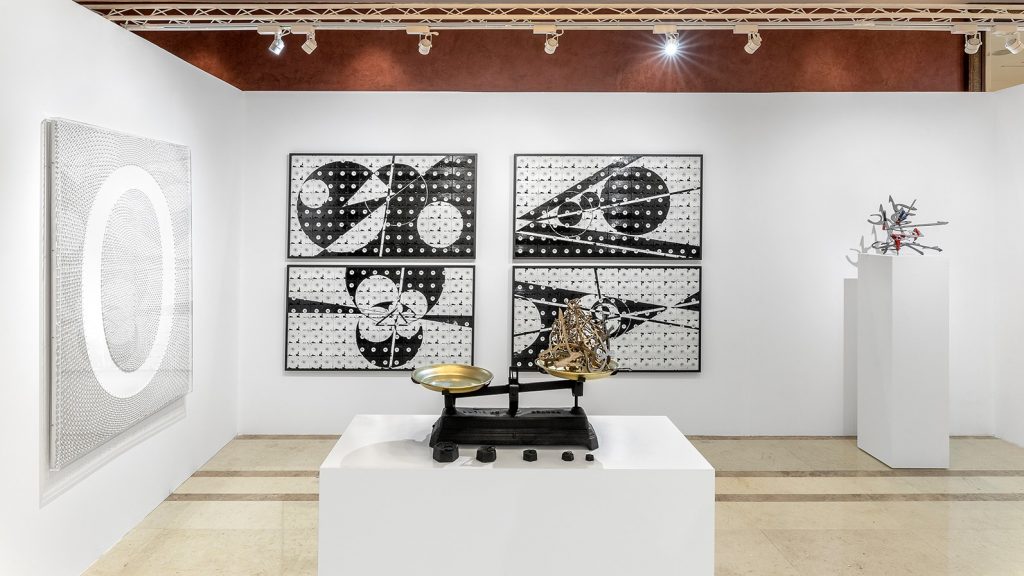 The Goodman Gallery presented Mounir Fatmi's exhibition at 1-54 Marrakech in a sophisticated display of black and white installations. The display combined photography with saw blade objects and Arabic calligraphy. Fatmi uses these mediums to explore human doubt, fears, and tensions around political issues like religion and immigration. He is committed to exposing the oppressive issues lurking in societal and political structures. "I know that my work can shock people, but for me, the battle is keeping them looking long enough for them to understand what I'm trying to say." One of the subjects Fatmi is most passionate about is anti-censorship. This theme is apparent in his saw blade sculpture. "My aim is to create work that is so camouflaged, so much like an onion, and that when they do censor me, I can quickly see I have touched on a societal problem." 
Another theme present in his work is immigration. "You leave a lot of things behind when you go. Your language, your family, your neighbourhood, your country. The immigrant problem is seen everywhere in the world. They are seen as an enemy. Not someone who already lost a lot, and is trying to construct something from the fragments of life that have been lost, but as someone who is coming to take."
Houda Terjuman (Morocco) / Galerie Venise Cadre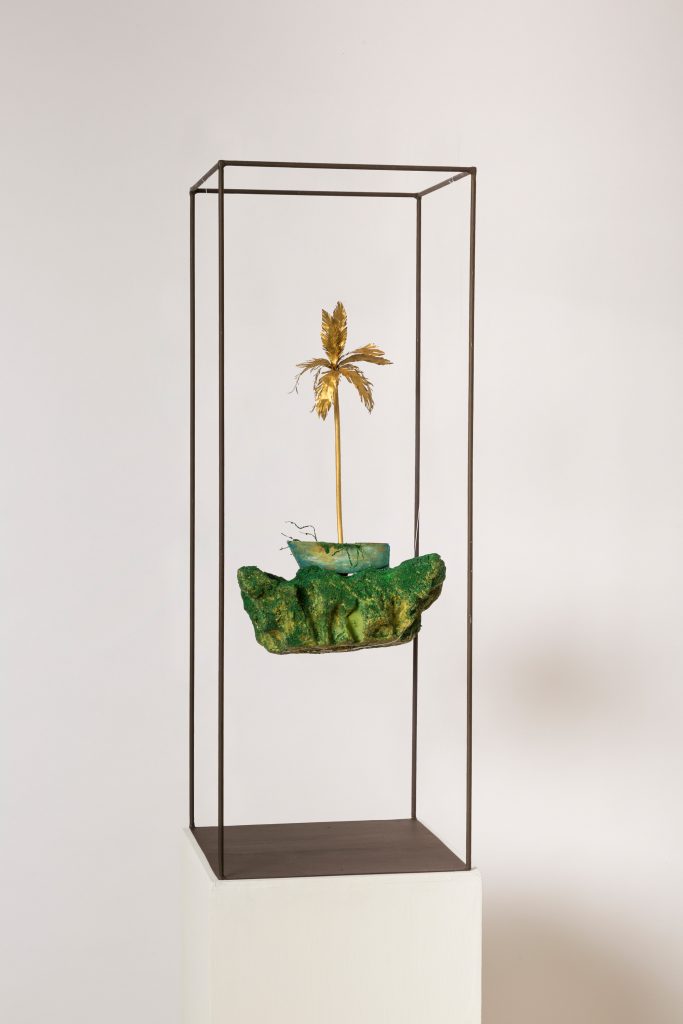 Houda Terjuman is a Syrian-Swiss-Moroccan artist, and her floating tree sculptures and poetic paintings represent the stories of families and individuals who courageously uprooted and took journeys through the Middle East, Europe, and Africa. She touches on themes of travelling through life, exile, el dorado, migration, seeking a home, and resilience. "It is about establishing roots even if you are suspended in time and space." When asked about why the theme of roots and home were so pertinent in her work, she shared "I realize now that my roots can be in any place I choose to call home."   
Ghizlane Sahli (Morocco) / Primo Marella Gallery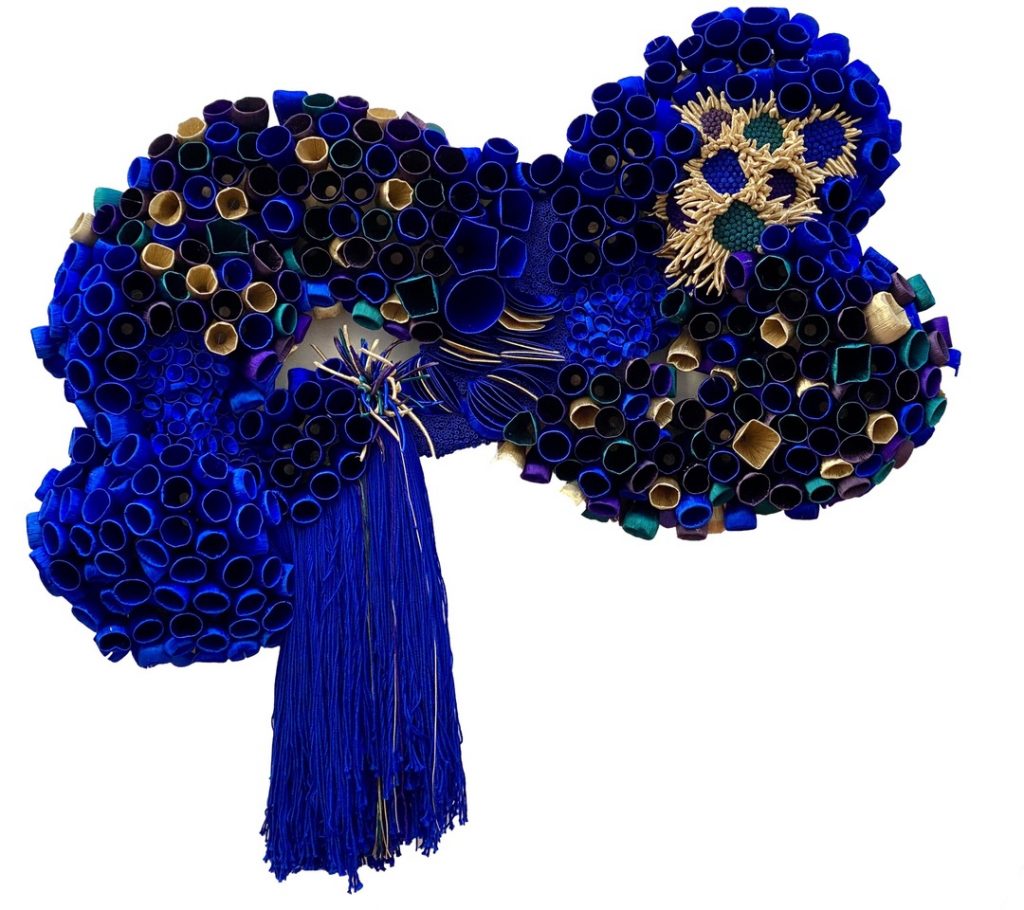 Ghizlane Sahli collects plastic waste bottles and other waste materials, and transforms them, with the help of local Moroccan women, into beautiful silk textures resembling alveolus-shaped forms imagined as human cells. Her work evokes the essence of a dreamlike state and bridges her three passions: space and volume – stemming from her architectural background; silk and thread; and the environment. 
Her story and work in sustainable arts can be traced back to 2012 when she created a dress for a Marrakech cultural magazine, made from trash bags, jerricans, and plastic. The successful experience inspired her to focus on creating art and together with her sister and two photographer friends, she formed the Zbel Manifesto collective, which appeared at the Marrakech Biennale in 2014. They presented the installation Pimp My Garbage. The installation was later shown at the inaugural exposition of the Mohammed VI Museum in Rabat. 
PARTNER PROJECTS
DADA Marrakech / Mohamed Bourouissa
The film Horse Day by Mohamed Bourouissa was featured at DADA exhibition space. The film touches on subjects of identity and roots and how to portray contemporary society implicitly, by its contours, giving voice to a marginalized community. Bourouissa who is of Algerian origins, shot his film in 2015 in Philadelphia in the associative stables of Fletcher Street, founded by African-American riders, true urban heroes and contemporary cowboys.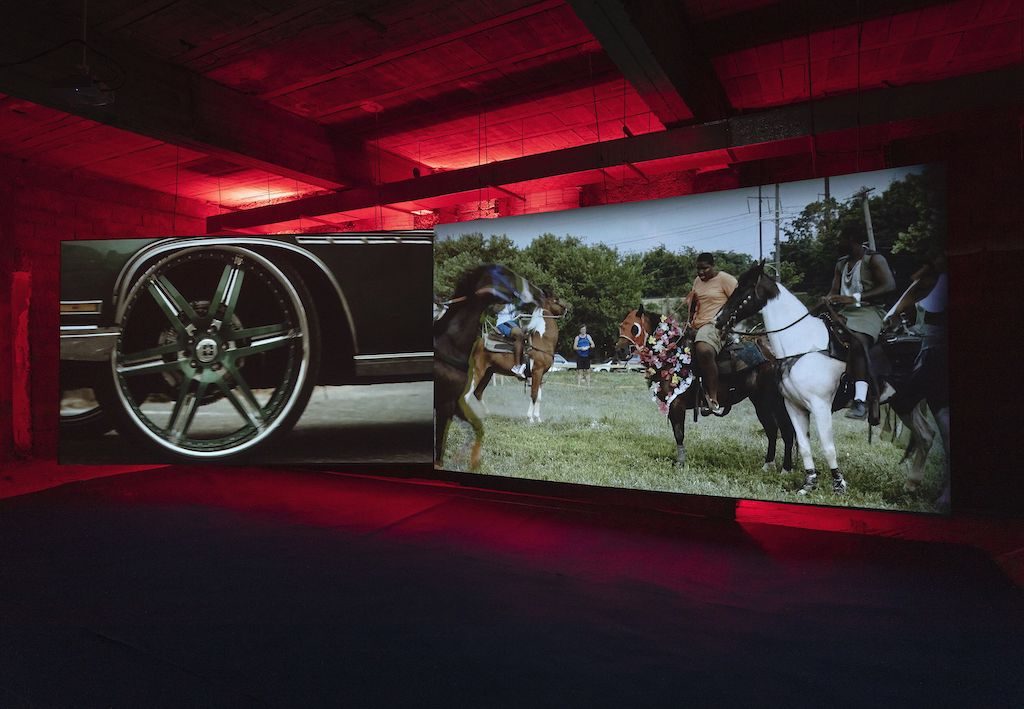 Located in the heart of the UNESCO certified Jemaa El Fna, the DADA exhibition space celebrates the creative art scene in Morocco and acts as a living laboratory for artists. It aims to inspire the local Moroccan community to enjoy and participate in art by making the space free and accessible to all.  
"OFF PROJECTS" GALLERIES AND EVENTS 
Galerie SINIYA28 (Marrakech)
Galerie SINIYA28 was established in March 2016 to support young, emerging Moroccan and international artists. The gallery's vision is to democratize art and make it accessible to young collectors and enthusiasts. It often showcases artists who integrate themes of home, roots, identity, and culture into their art. In partnership with 1-54 Art Fair for its third edition in Marrakech, Galerie SINIYA28, founded by Hadia Temli, presented CROSSROADS, a collective show featuring Alia Ali, Houda Terjuman, Mounat Charrat and Meriem Yin. The all-female show shined a light on the creatively unique and the powerful language used by the artists. Their works touch on issues of identity, migration, socio-political awareness and media criticism. 
"I can identify myself as a woman gallerist who represents mainly women," said Hadia. "This has been empowering. Women are booming with creativity, we need to open the door for them and let them shine bright and strong."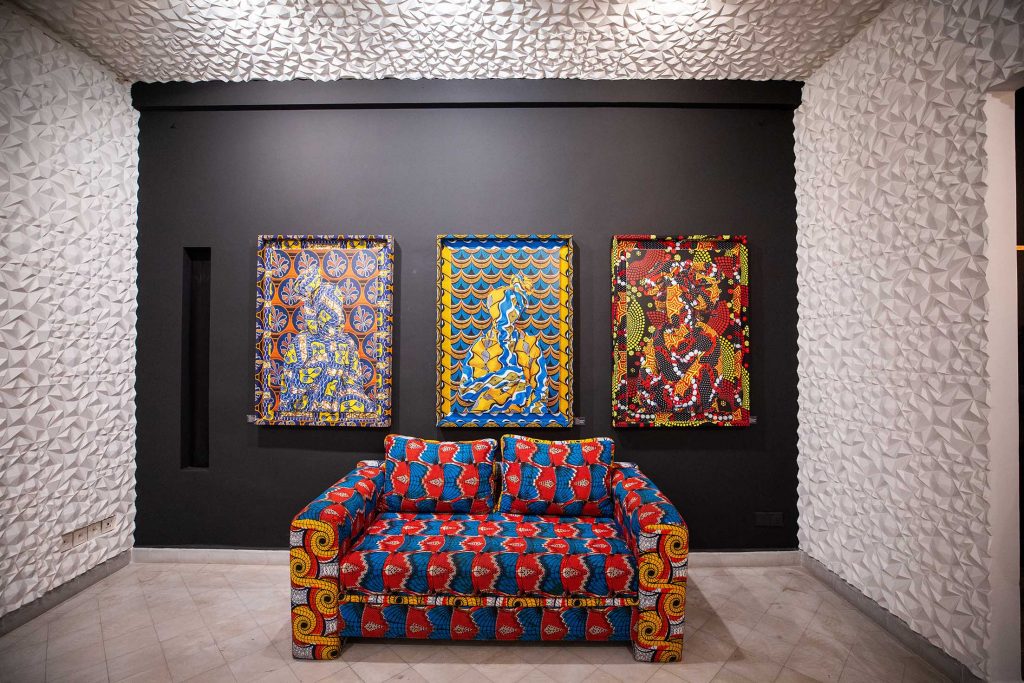 AFRƎEculture (Jnane Tamsna, Marrakech) 
AFRƎEculture is a new cultural platform co-founded by female entrepreneurs Mashariki Williamson and Meryanne Loum-Martin. One of the esteemed members of the platform's advisory council is the Nigerian-Ghanaian novelist Taiye Selasi. AFRƎEculture's inauguration was planned to coincide with the third edition of the 1-54 African Art Fair and held at the prestigious Jnane Tamsna, a boutique hotel in the Palmeraie District in Marrakech. The cultural think tank celebrates and supports the talent, diversity and global influence of Africa and the African diaspora. On its opening day, the panel of speakers discussed the subject of home. 
"The concept of home is changing so that it is no longer easy to say I'm from here because my parents are from here," said Enuma Okoro a Nigerian-American author and speaker, who was voted as one of the 100 Most Inspiring Women in Nigeria in 2018.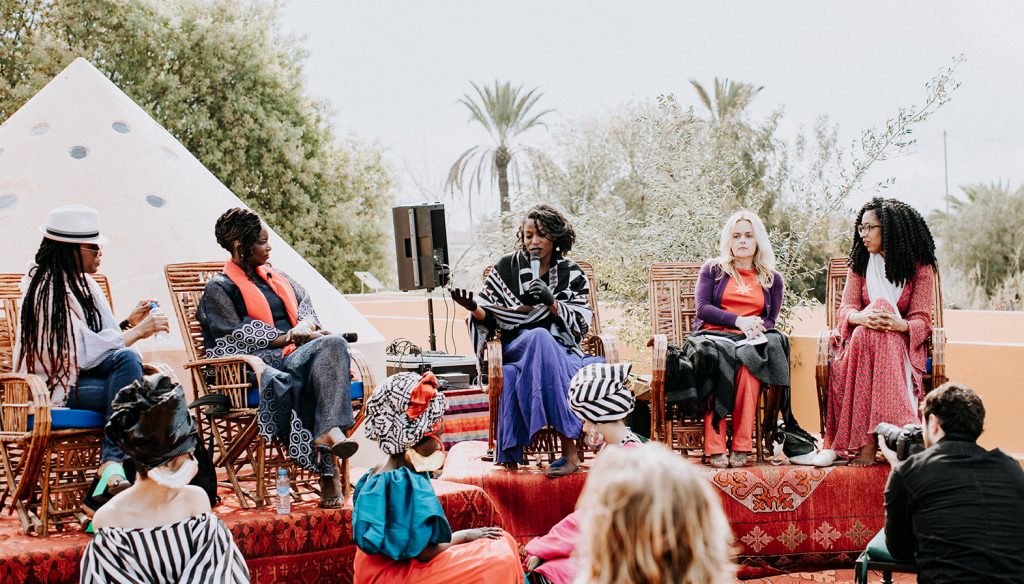 In reflecting on her work which covers topics like identity, culture, and transnationalism, Okoro expressed her belief that the arts are a type of language to speak about things like home, identity, and belonging. "I'm starting to think about language as more than just words. There's already a new language forming in that bridge between ancestral home and diaspora, and used in particular ways to communicate about us bridge-dwellers, one by which we are learning to share our own experiences." 
On the new platform and the gathering of diaspora Africans in Marrakech, Selasi comments, "I think we are witnessing the flowering of diaspora culture. It's what Hemingway would have called a movable feast."  
–
Featured artwork by Ghizlane Sahli.