TSA shares a round-up of some of the most anticipated shows and events in the African art scene this season.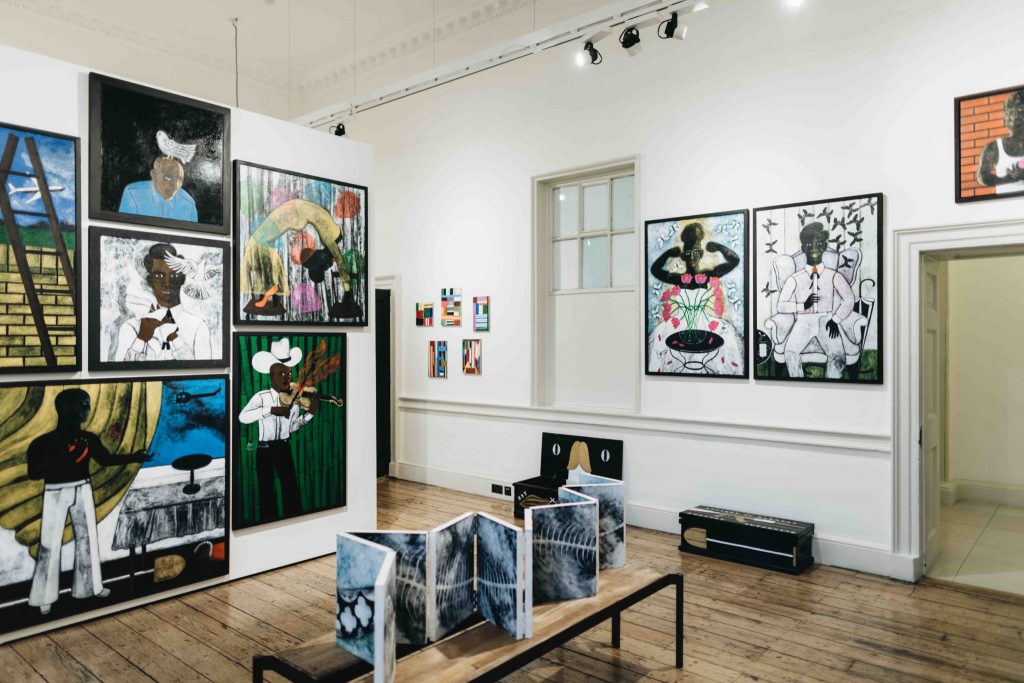 The final quarter of 2019 arrives with a bevy of activities in the African art scene—art fairs, auctions, festivals, biennials, and exhibitions, from Nigeria to Mali, Congo, Togo and some of the diaspora art scenes. TSA's editorial team compiles some of the most anticipated events as well as off the beaten path happenings to see and follow this season.
1-54 London returns to Somerset House for its 7th edition from October 3 – 6, 2019. With 45 international galleries presenting the works of 140 multidisciplinary established and emerging artists, the likes of Yinka Shonibare, Hew Locke, Godfried Donkor, Peju Alatise, Pamela Phatsimo Sunstrum, Kelani Abass, Sory Sanlé, Mohau Modisakeng, Zak Ové, Victor Ekpuk, and Zaki Khaled, a wide range of artworks representing Africa and its diaspora will be on view. This edition's Special Projects feature Mary Sibande: I Came Apart At The Seams, the artist's first solo show in the UK presented in partnership with Somerset House.
In São Paulo, Brazil, the 21st Contemporary Art Biennial Sesc_Videobrasil – Imagined Communities  is open from October 9, 2019 – February 2, 2020. To broaden the diversity of voices at this edition, the curatorial team considered stateless communities, indigenous peoples, religious or mystical communities, communities uprooted from their original lands, fictional, utopian, and clandestine communities. Some of the artists from Africa included are Ezra Wube, Mohau Modisakeng, Megan-Leigh Heilig, Nelson Makengo and Thierry Oussou.
From October 20 – November 21, 2019, the inaugural Young Congo Biennale, a Congolese contemporary festival of art, will take place across various public spaces in Kinshasa, and will include projects from more than 40 artists, designers, architects, art historians, curators, art critics and other creators from five continents.
Also, in Congo, the 6th edition of Biennale de Lubumbashi themed Future Genealogies, Tales From The Equatorial Line, will take place from October 24 – November 24, 2019. Under the artistic direction of Sandrine Colard, a specialist of modern and contemporary African and global arts, the Biennale explores the contemporary creation of the artistic scene in the Democratic Republic of Congo and in the world.
On October 25, Smithsonian National Museum of African Art will present the 2019 African Art Awards to two contemporary African artists; Njideka Akunyili Crosby from Nigeria based in Los Angeles and Elias Sime from Ethiopia.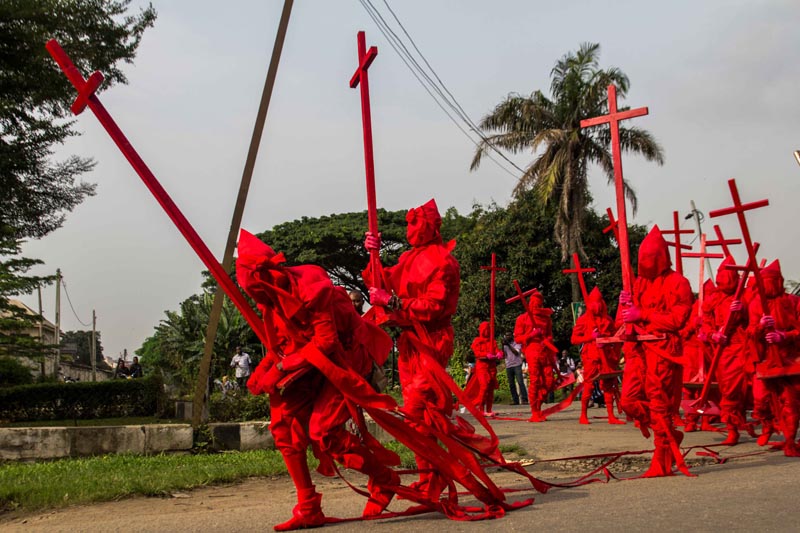 In Lagos, the second edition of Lagos Biennale opens on October 26 and will run till November 30, 2019. Through exhibitions, performances, publishing projects, and public programmes, this edition, jointly curated by Antawan I. Byrd, Tosin Oshinowo and Oyinda Fakeye, features work by 38 artists from around the world who have responded critically to the theme, How to Build a Lagoon with Just a Bottle of Wine. Some of the participating artists are Ndidi Dike (Nigeria), Euridice Kala (Mozambique), Hiroko Tsuchimoto (Japan), Raquel Barrios (Mexico), and MOE+ Art Architecture (Nigeria).
Running for ten years consecutively and one of the most talked about contemporary photography events in Africa, LagosPhoto Festival presents its 10th edition titled Passports from October 27 – November 15, 2019. The festival organises multiple events such as exhibitions, workshops, artist presentations, discussions and large scale outdoor prints displayed throughout the city with the aim of reclaiming public spaces and engaging the general public with multifaceted stories of Africa. In this year's edition, invited artists will consider the festival platform as a laboratory for ideas and a safe place for experimenting with identity, creating new categories of an international passport that allows for diversity. Some of the artists showing are Maïmouna Guerresi, Halima Abubakar, David Baptiste, Joanna Choumali, Sanne de Wilde, Rahima Gambo, and the platform Portrait of Humanity.
The educational summit focusing on the future of art in Nigeria, Art Summit Nigeria also returns. Themed The Future of Art: Is Collaboration, the second edition takes place from October 30 – 31 2019. It follows its inaugural threefold programme mode of experiential pavilion, conference, and educational workshops at the Queens Park Event Centre in Lagos, Nigeria.
ART X Lagos Art Fair 4th edition will take place from November 1 – 3, 2019. It promises an exciting programme of specially curated and interactive projects, talks, and live events to its broad audience of collectors, connoisseurs, cultural practitioners and art lovers. This year, ART X features 23 galleries from across Africa, the United Kingdom, and Europe, presenting  artworks from over 90 artists.
A new addition to the art calendar line-up in Lagos this season is Gallery Weekend Lagos, a collaborative platform aiming to present the culture, diversity and creativity of Lagos through art. Modelled after popular art weekends in other parts of the world, the platform is set to present artworks at 30 plus galleries and cultural centers in the Lagos metropolis from November 8 – 10, 2019.
The only art fair dedicated to contemporary art and design from Africa in France, AKAA – Also Known As Africa, returns for its 4th edition too. Hosted annually in Paris, AKAA will take place from November 9 – 11 2019 with 44 galleries representing artists mostly from Africa, but also including Europe and the Americas.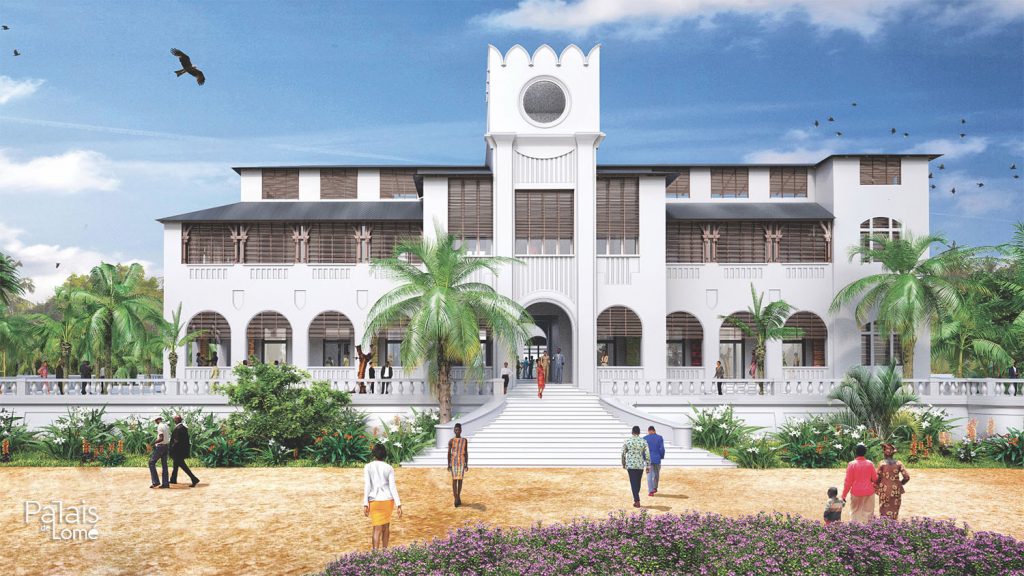 In West Africa, one of the French speaking countries,Togo, launches a prestigious art institution called Palais de Lomé. Located in a building and spacious park with 121 years of colonial, independence and post-independence history of Togo, the institution will present spectacular exhibitions and programmes on design, visual and performing arts, workshops and seasonal events. "The centre will kick start a vital cultural conversation in Lomé, Togo, West Africa and beyond, by showing the special role creativity plays in people's lives here – whether that be artistic, scientific or technological", says Sonia Lawson, Director of Palais de Lomé. The official opening date is November 22, 2019 but different cultural activities are planned for November 21 – 24, 2019.
Our season's guide will be incomplete without Bamako Encounters. The 12th edition takes place this year under the artistic direction of Bonaventure Soh Bejeng Ndikung, renowned independent curator and writer, artistic director of sonsbeek 2020 – 2024 and founder of Savvy Contemporary in Berlin. Working with the theme Streams of Consciousness, the photography biennial will take place from November 30, 2019 – January 21, 2020 at multiple locations in Bamako. Other curators of the biennial are Aziza Harmel, Astrid Sokona Lepoultier and Kwasi Ohene-Ayeh. Over 80 artistic positions from the African art world have been invited to participate.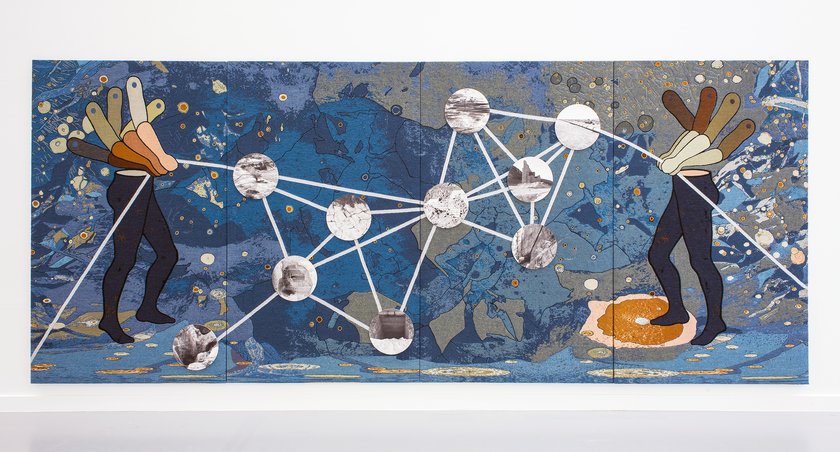 In addition to the events listed above, we are also excited about some solo exhibitions this season. At Mathaf: Arab Museum of Modern Art in Doha, Qatar, El Anatsui: Triumphant Scale is on view from October 1, 2019 – January 31, 2020. Otobang Nkanga's From Where I Stand is currently showing at Tate St Ives, Cornwall, England. The exhibition closes January 5, 2020. In Lagos, Kelani Abass' exhibition entitled [Re:]Entanglements is showing at the National Museum from September 21 – October 21, 2019, and Ngozi Schommers' the way we mask follows at the same museum from November 2 – 14, 2019.
Following the art seasons is not for the fainted-hearted. It often feels like an endless marathon. TSA is gearing up to report some of these events, as well as engage the key personalities behind them. We ask that you keep visiting our site and social pages, especially Instagram, until the year ends. If you happen to be at any of these programs, we encourage you to do more than be a passive attendee–engage, probe, question. Feel free to also share your thoughts on social media and tag us. Let's keep the conversation moving!